Zuzana Tomchikova
Position
Goaltender
Height
Weight
5 ft 10 in (1.78 m)
161 lb (73 kg)
WCHA Team
Bemidji State
Born
April 23 1988
Zvolen, Slovakia
,
Pro Career
2008 – present
Medal record
Women's ice hockey
Competitor for  Slovakia
Winter Universiade
Bronze
2011 Turkey
Tournament
Zuzana Tomčíková (born April 23, 1988) is a member of the Slovakia women's national ice hockey team and also plays for the Bemidji State Beavers. Tomčíková was part of the team that finished in eighth place at the 2010 Olympic Winter Games. In 2009, Tomcikova played in the 2009 Ball Hockey World Championships in Pilsen, Czech Republic.[1]
Playing career
Edit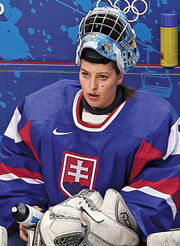 Prior to NCAA hockey, she played for the Slovakian National Team that won gold medal in the North Korea World Championships (Division II), and placed second in Latvia (Division I). Despite being from Slovakia, Tomčíková went to high school at Caronport High School in Canada. Her high school ladies team won the Regina League, Provincials and the Western Shield in her sophomore year. In addition to women's hockey, she played for the boys Tier II team in the South Central minor hockey league.
Tomcikova was in net as Canada defeated Slovakia at the 2010 Vancouver Winter Games by an 18-0 mark. She was teary-eyed after the match. She had never allowed so many goals in her career. In addition, she faced 67 shots, a career high. In a statement, she said she was really happy her team didn't quit on her and the team was cheering her on after every single goal. [2]
Bemidji State
Edit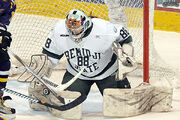 Tomcikova was playing in Sweden before joining Bemidji State. She inherited the starting goaltender position at Bemidji State from Emily Brookshaw, who had set career marks in almost every major goaltendingcategory as a Beaver. As a freshman, she was named to the All-WCHA Second Team and All-WCHA Rookie Team. In addition, she became just the second Beaver to eclipse the quadruple-save plateau with 1,025(also in her freshman year). In terms of minutes, she played 1805:08. Statiscally, she recorded a .917 save percentage and a 3.09 goals against average. In addition, she tied the school record with three shutouts and became the first player in conference history to be named WCHA Defensive Player of the Week on three straight occasions (Dec. 10, Dec. 17 and Jan. 7). At season's end, she became the first Beaver to earn All-WCHA Second Team honors.[3] On January 28, 2012, the Wisconsin Badgers hosted a record crowd of 12,402 attended the Kohl Center as Wisconsin swept the Bemidji State Beavers. Tomcikova made 32 saves in front of the record breaking crowd, while her rival between the pipes Alex Rigsby earned her sixth shutout of the season.[4] After her senior season, she was a member of the four-year class with the most wins in Beaver history: (with fellow seniors Kimberly Lieder, Alana McElhinney, Montana Vichorek, Marlee Wheelhouse and Lauren Williams).[5]
Career stats
Edit
Bemidji State
Edit
| | | | | | | | | |
| --- | --- | --- | --- | --- | --- | --- | --- | --- |
| Season | Games Played | Wins | Losses | Ties | Win % | Shutouts | Goals Against Average | Save % |
| 2008-09 | 31 | 5 | 22 | 4 | .226 | 3 | 3.09 | .917 |
Awards and honors
Edit
References
Edit
Community content is available under
CC-BY-SA
unless otherwise noted.