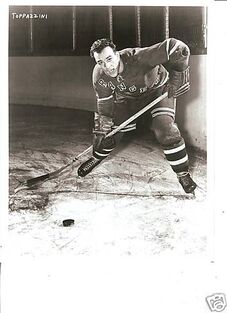 Zellio Toppazzini (January 5, 1930 in Copper Cliff, Ontario – April 1, 2001) was a retired professional ice hockey player who played 123 games in the National Hockey League. He played with the New York Rangers, Boston Bruins, and Chicago Black Hawks, scoring a total of 21 goals and 22 assists. He was the brother of Jerry Toppazzini, who played 11 seasons in the NHL.
He spent most of his career in the American Hockey League. Toppazzini was a ssecond team all-star in 1954-55 and was a first team all-star and winner of the John B. Sollenberger Trophy (leading scorer) in 1955-56.
Toppazzini coached the Providence College hockey team for four seasons from 1964-65 through 1967-68 compiling a 31-60-1 (0.342) record. His best and only winning season behind the PC bench was his first year (1964-65) when the Friars went 14-11-1 (0.558). Toppazzini was replaced by an up and coming hockey legend named Lou Lamoriello.
References
External links