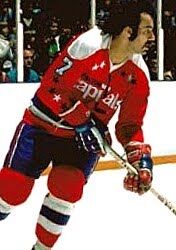 Yvon Labre (born November 29, 1949 in Sudbury, Ontario) is a former Canadian professional ice hockey player.
Labre was originally drafted by the Pittsburgh Penguins, but only played there a very short time (21 games) before being selected by the Washington Capitals in the 1974 NHL Expansion Draft. Labre has the distinction of scoring the first-ever home goal for Washington, beating the Los Angeles Kings' Goaltender Rogatien Vachon. Although he was never one to put up big offensive numbers, Labre's value was noted in being a hard-nosed defensive defenseman on the ice and an active member of community programs and youth hockey programs off it. Such dedication to a team in a location not known for rich hockey history made him one of the Capitals' most popular players during his time there.
Labre served as team captain from 1976 to 1978. He remained in the Capitals organization after his playing career ended. At various times since his retirement, he has served as an assistant coach, a color commentator, a scout and the director of community relations for the Capitals. Labre's jersey number (#7) was retired by the Capitals on November 22, 1980. He is the only player to ever wear #7 for Washington. He can still be found at many Capitals home games and is always willing to chat with the fans or sign autographs.
Community content is available under
CC-BY-SA
unless otherwise noted.