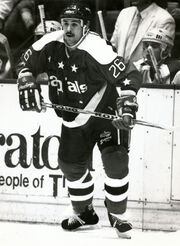 Yvon Rene Corriveau (born February 8, 1967 in Welland, Ontario) is a retired Canadian ice hockey left winger.
Selected by the Washington Capitals 19th overall in the 1985 NHL Entry Draft, Corriveau also played for the Hartford Whalers and San Jose Sharks. He retired from active professional play in 2005.
He played junior hockey for the Toronto Marlboros and joined the Capitals in 1986-87. Corriveau spent the next four seasons bouncing between the Caps and their farm team. He was traded to the Hartford Whalers in 1990 but was unable to make it there either.
After 3 seasons of minor pros Corriveau joined the Eisbären Berlin team in Germany. He played pro hockey in Berlin until he retired in 2005.
External links