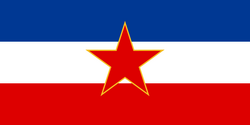 Yugoslavia was a nation in southeastern Europe that existed from 1918 until the wars of the 1990's.
It has split up into the countries of Slovenia, Croatia, Bosnia-Herzegovina, Serbia, Montenegro, Macedonia, and Kosovo.
Yugoslavia

Info

Rinks

Players

Referees

Population in 1989

23,724,919

Indoor

--

Total

--

Male

--

Capital

Belgrade

Outdoor

--

Male

--

Female

--

IIHF From

Junior

--

Country From

1918-1992

Female

--

The Yugoslav national ice hockey team was the national men's ice hockey in the former republic of Yugoslavia. They competed in five Olympic Games competitions. This article discusses the team that represented the Socialist Federal Republic of Yugoslavia and its predecessors, but not the Federal Republic of Yugoslavia. For the FRY, please see the Serbian national ice hockey team.
First game: January 30, 1934. Ljubljana, Kingdom of Yugoslavia. Yugoslavia 0-1 Romania
Last game: April 12, 1992. Klagenfurt, Austria. Yugoslavia 0-14 Austria
Largest victory: March 28, 1987. Copenhagen, Denmark. Yugoslavia 28-1 Denmark
Largest defeat: February 3, 1939. Zurich, Switzerland. Yugoslavia 0-24 Czechoslovakia
Most points: Zvone Šuvak, 202
Most games: Edo Hafner, 203
In 1992 Yugoslavia broke up into 5 (eventually 7) countries
Community content is available under
CC-BY-SA
unless otherwise noted.