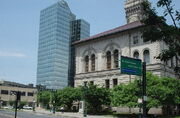 Worcester is a city of about 175,000 people in central Massachusetts, United States.
It has a popluation of about 175,000 and is part of the metropolitan Boston area.
Worcester hosted the 2009 AHL All-Star Game on January 29, 2009.
Worcester has also been a regionals host for the NCAA men's Division I Hockey Tournament on mulitiple occassions.
The Hart Center hosted the 1999 and 2002 MAAC hockey championships
DCU Center (1982-Present) (originally Centrum in Worcester, formerly Worcester's Centrum Centre and commonly The Centrum)
Hart Center (1975-Present)
Worcester Arena (home of the Worcester Warriors)
External Links
Edit
Community content is available under
CC-BY-SA
unless otherwise noted.