The Winnipeg Winnipegs were both a senior and junior team in Winnipeg, Manitoba.
Senior Team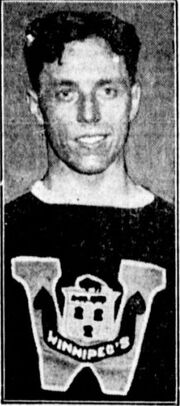 History
The team was founded on November 14, 1890.
The Winnipegs won the Manitoba Senior Championship in 1906-07, 1912-13, 1926-27, 1930-31, and 1931-32,
They won the Allan Cup in 1912-13 and 1930-31.
They won the Olympics in 1932 as the team representing Canada.
Season-by-Season Results
Manitoba Senior Hockey (1891-1902)
Season
Games
Won
Lost
Tied
Points
Goals
for
Goals
against
Standing
Playoffs
1891-92
7
4
2
1
9
32
13
2nd
No Playoffs
1893-94
5
2
3
0
4
23
26
2nd
No Playoffs
1894-95
3
0
3
0
0
15
22
2nd
No Playoffs
1895-96
3
0
3
0
0
15
37
2nd
No Playoffs
1896-97
5
1
4
0
2
15
21
2nd
No Playoffs
1897-98
5
1
4
0
2
12
29
2nd
No Playoffs
1898-99
4
0
4
0
0
5
31
2nd
No Playoffs
1899-00
4
0
4
0
0
12
29
2nd
No Playoffs
1900-01
4
0
4
0
0
11
16
2nd
No Playoffs
1901-02
4
0
4
0
0
7
20
2nd
No Playoffs
Manitoba Senior Hockey (1906-10)
Season
Games
Won
Lost
Tied
Points
Goals
for
Goals
against
Standing
Playoffs
1905-06
8
7
1
0
14
51
24
Tied 1st
Lost Final
1906-07
4
3
1
0
6
28
17
1st
No Playoffs
1909-10
6
0
6
0
0
18
57
3rd
No Playoffs
Manitoba Hockey League (1912-16)
Season
Games
Won
Lost
Tied
Points
Goals
for
Goals
against
Standing
Playoffs
1912-13
8
7
1
0
14
63
46
1st
Won Allan Cup
1913-14
8
2
6
0
4
32
47
3rd
Out of Playoffs
1914-15
8
1
7
0
2
44
78
3rd
Out of Playoffs
1915-16
8
0
8
0
0
22
62
3rd B Division
Out of Playoffs
Manitoba Senior Hockey (1919-27)
Season
Games
Won
Lost
Tied
Points
Goals
for
Goals
against
Standing
Playoffs
1919-20
8
6
2
0
12
51
37
1st
Lost Manitoba Final
1920-21
12
3
9
0
6
54
80
3rd
Out of Playoffs
1921-22
12
6
6
0
12
78
61
2nd
Lost League Final
1926-27
8
7
1
0
14
-
-
1st
Won Manitoba, Lost West Quarter Final
Manitoba Senior Hockey (1929-33)
Season
Games
Won
Lost
Tied
Points
Goals
for
Goals
against
Standing
Playoffs
1929-30
12
8
4
0
16
-
-
1st
Lost Manitoba Final
1930-31
12
6
6
0
12
22
24
Tied 1st
Won Manitoba, West
Won Allan Cup
1931-32
12
7
4
1
15
14
9
1st
Won Manitoba
Won Olympics
1932-33
16
9
7
0
16
28
22
Tied 2nd
Lost Semi Final
Thunder Bay Senior Hockey (1935-36)
Season
Games
Won
Lost
Tied
Points
Goals
for
Goals
against
Standing
Playoffs
1935-36
12
7
3
2
16
-
-
1st
Lost Thunder Bay Final
Junior Team
Season-by-Season Results