"Wesmen" is the name of the sports teams of the University of Winnipeg, which is located in Winnipeg, Manitoba. The University was founded in 1967 when United College received its charter. United College was formed in 1938 with the merger of Manitoba College (established 1871) and Wesley College (established 1888). They are members of the Canada West Universities Athletic Association (CWUAA) and U Sports (formerly known as CIS). They no longer compete in the hockey league.

The Winnipeg Wesmen hockey team started play in the WCIAA in the 1968-69 season. In 1972-73 the WCIAA split in two and the Wesmen joined Lakehead University, the University of Manitoba, and Brandon University as founding members of the Great Plains Athletic Conference (GPAC). They were joined by the University of Regina in 1976-77.

The Winnipeg Wesmen program folded following the 1983-84 season. For a YouTube video see the link for Iced: The Lost History of Hockey at The University of Winnipeg.
Season-by-Season RecordsEdit
1972 Playoffs
Sudden-Death Semi-Final 
Calgary Dinosaurs 6 Winnipeg Wesmen 5

This was the only playoff game played by the Winnipeg Wesmen.

CommemorationsEdit
ChampionshipsEdit
University CupsEdit
Alternate LogosEdit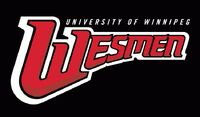 Current TeamsEdit
Former TeamsEdit
National links:
Western links:
Atlantic links:
Ontario-Quebec links:
College links:
Community content is available under
CC-BY-SA
unless otherwise noted.