History
The Winnipeg Victorias were a senior team. Founded November 3, 1890.
They are in a very special position in Canadian hockey history. The Victorias were one of the very few teams to win both the Stanley Cup and the Allan Cup.
They won the Stanley Cup six times and lost it five. They won the Allan Cup twice and lost it twice.
The Victorias played in Manitoba Senior Hockey (not in every season) from 1891-92 through 1922-23.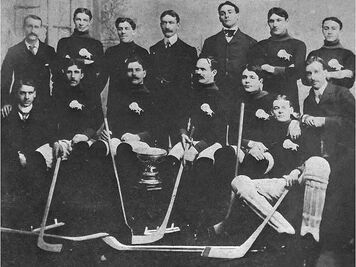 Season-by-Season Results
Manitoba Senior Hockey
Season
Games
Won
Lost
Tied
Points
Goals
for
Goals
against
Standing
Playoffs
1891-92
7
5
1
1
11
30
16
1st
No Playoffs
1893-94
6
5
1
0
10
30
15
1st
No Playoffs
1894-95
3
3
0
0
6
22
5
1st
No Playoffs
1895-96
3
3
0
0
6
37
15
1st
Won Stanley Cup
1896-97
5
4
1
0
8
21
15
1st
Lost Stanley Cup
1897-98
5
4
1
0
8
29
12
1st
No Playoffs
1898-99
4
4
0
0
8
31
5
1st
No Playoffs
1899-00
4
4
0
0
8
29
12
1st
Lost Stanley Cup
1900-01
4
4
0
0
8
16
11
1st
Won Stanley Cup
1901-02
4
4
0
0
8
20
7
1st
Won Stanley Cup
1902-03
6
2
4
0
4
24
30
2nd
Lost Stanley Cup
1903-04
6
1
5
0
2
30
35
2nd
No Playoffs
1904-05
7
1
6
0
2
28
42
5th
Out of Playoffs
1905-06
8
3
5
0
6
31
40
4th
Out of Playoffs
1906-07
4
1
3
0
2
17
28
2nd
No Playoffs
1908-09
7
6
1
0
12
57
33
1st
No Playoffs
1909-10
8
5
3
0
10
56
46
2nd
No Playoffs
1910-11
6
6
0
0
12
63
31
1st Winnipeg
Won Allan Cup
1911-12
8
6
2
0
12
71
48
1st Winnipeg
Won Allan Cup
1912-13
8
3
5
0
6
63
40
2nd Winnipeg
Out of Playoffs
1913-14
8
4
4
0
8
37
38
2nd Winnipeg
Out of Playoffs
1914-15
8
5
3
0
10
62
41
2nd Winnipeg
Out of Playoffs
1915-16
8
7
1
0
14
52
27
2nd B
Lost Final
1916-17
8
5
3
0
10
43
40
1st A
Won Manitoba Final, Lost Allan Cup
1919-20
8
4
4
0
8
43
45
2nd Winnipeg
Out of Playoffs
1921-22
7
7
0
0
14
56
34
1st Winnipeg
Lost Manitoba Final
1922-23
16
3
13
0
6
54
91
6th
Out of Playoffs
Wins
February, 1896
March, 1896
January, 1901
February, 1901
January, 1902
March, 1902
Losses
December, 1896
February, 1899
February, 1900
March, 1902
February, 1903