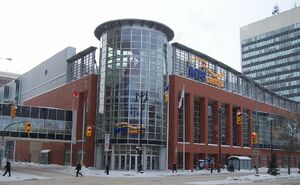 Winnipeg is a city of over 600,000 people and is the capital of Manitoba, Canada
The city was originally founded as Fort Rouge in 1738. For a period it was known as Fort Gibraltar.  It was renamed Fort Garry in 1822 and finally renamed Winnipeg in 1783.
The city of Winnipeg now includes the former municpalities Transcona, St. Boniface, St Vital, West Kildonan, East Kildonan, Tuxedo, Old Kildonan, North Kildonan, Fort Garry, Charleswood, and St. James
Hockey in Winnipeg
Edit
The city of Winnipeg has been host to many hockey events over the years. Due to its' central location in Canada and the fact that the Shea's Amphitheatre was the only artificial ice surface between Toronto and Vancouver for many years.Winnipeg has hosted games of the Memorial Cup finals thirteen times between 1922 and 1959.
Winnipeg was a hot bed for senior hockey particularly from 1911 to 1917 with the Winnipeg Victorias, the Winnipeg Hockey Club, the Winnipeg Monarchs, and the Winnipeg 61st Battalion all holding the Allan Cup during this time frame.  Winnipeg also hosted eight Allan Cup Finals after this period with the last being held in 1968.
Winnipeg hosted the 1967 Centennial Tournament, with teams from Canada, Soviet Union, Czechoslovakia, and USA.
From 1965 to 1968 Winnipeg was the base for Canada's amateur national hockey team.
Third game of the Canada Soviet tournament of 1972 was held in Winnipeg, and ended in a 4-4 tie.
Winnipeg hosted games of the 1973, 1977, 1978, 1979 AVCO World Trophy finals.  Game 6 of the 1979 final was the last game ever played by the WHA
one game of the 1976 Canada Cup and five games of the 1981 Canada Cup
Winnipeg hosted the 2006 AHL All-Star Classic
2007 IIHF World Women's Championship
2007 Game 5 of the Canada Russia Junior Super Series
2009 World Deaf Ice Hockey Championship
Winnpeg hosted the 2011 World U-17 Hockey Challenge along with Portage La Prairie
Winnipeg is scheduled to co-host the 2021 World Junior Ice Hockey Championships with Thunder Bay, Ontario
Major League
Edit
(WHA, 1972-1979) join NHL during NHL-WHA merger
(NHL, 1979-1996) moved to Phoenix, become Phoenix Coyotes
(NHL, 2011-present)
Minor League
Edit
(IHL, 1996-2001) join AHL when IHL folds
(AHL, 1996-2011) franchise relocated to St. John's and become St. John's IceCaps, when ownership purchases Atlanta Thrashers of NHL and relocates franchise to Winnipeg
(AHL, 2015-Present)
(Central Hockey League, 1925-1926) league renamed AHA
(American Hockey Association, 1926-1928) withdrew
(Manitoba Hockey Association, 1906-1907) league changes name and becomes openly professional
(Manitoba Professional Hockey League, 1907-1908) revert to amateur status
Major Junior
Edit
(Canadian Major Junior Hockey League, 1967-1968)  league renamed WCHL
(Western Canada Hockey League, 1968-1973) renamed Clubs
(Manitoba Assiniboine Hockey League, 1976-1980)
also played in South Eastern Manitoba Hockey League
(Manitoba Senior Hockey League, 1967-1971) join CCHL
(Saskatchewan Senior Hockey League, 1970-1971) played as a guest team
(Canadian Central Hockey League, 1971-1974) play independent following season
Independent Schedule (1974-1975) join CASHL
(Central Amateur Senior Hockey League, 1975-1991)
Independent Schedule (1991-1994) folded
(Manitoba Eastern Hockey League, 1969-1971) withdrew, return for 72-73 season
(Manitoba Eastern Hockey League, 1972-1973)
(Manitoba Senior Hockey League, 1953-1954)
Was only senior hockey team in province of Manitoba from 1955 to 1964
(Saskatchewan Senior Hockey League, 1962-1964 as a touing team)
(Manitoba Senior Hockey League, 1965-1967) moved to St. Boniface, renamed St. Boniface Mohawks
Military Teams playing in Senior Leagues in Winnipeg Area
Edit
Very Honourable mention: The 3rd Canadian Infantry Division "Winnipegs" played in the 1940-41 season Antigonish-Pictou-Colchester Senior Hockey League while stationed at the miltary camp at Debert, Nova Scotia while waiting overseas deployment during the Second World War.
Intermediate
Edit
(Winnipeg Metro Intermediate 'AA" Hockey League, 1961-1962)
(Manitoba Intermediate 'AA' Hockey League, 1964-1965)
(Winnipeg Metro Intermediate 'AA" Hockey League, 1961-1962) league renamed to MIAAHL
(Manitoba Intermediate 'AA' Hockey League, 1962-1965)
(Winnipeg and District Junior Hockey League, 1921-1933) see MJHL
(Manitoba Junior Hockey League, 1931-1937) withdrew
(Winnipeg and District Junior Hockey League, 1922-1923)
(Winnipeg and District Junior Hockey League, 1929-1930
(Manitoba Junior Hockey League 1939-1945)
(Manitoba Junior Hockey League 1936-1946) merge with Stan Evans Orioles as St. James Orioles
(Manitoba Junior Hockey League 1946-1947) become Winnipeg Canadiens
(Manitoba Junior Hockey League 1967-2003) 
(Winnipeg and District Junior Hockey League, 1917-19) withdrew
(Winnipeg and District Junior Hockey League, 1922-1927) withdrew
(Winnipeg and District Junior Hockey League, 1920-1921) moved to St Boniface
(Manitoba Junior Hockey League, 1947-1950) franchise sold and moved to St. Boniface
(Winnipeg and District Junior Hockey League, 1921-1922) withdrew
(Winnipeg and District Junior Hockey League, 1927-1933  fold after failed merger with Winnipeg Winnipegs
(Winnipeg and District Junior Hockey League, 1920-1925) withdrew
(Manitoba Junior Hockey League, 1931-36) merge with Winnipeg Rangers as Winnipeg Falcon-Rangers
(Manitoba Junior Hockey League, 1940-42) withdrew
(Winnipeg and District Junior Hockey League, 1918-1920) withdrew
(Winnipeg and District Junior Hockey League, 1925-1929) withdrew
(Manitoba Junior Hockey League, 1934-1936) merge with Winnipeg Falcons as Winnipeg Falcon-Rangers
(Manitoba Junior Hockey League, 1956-1957) moved to Brandon
(Manitoba Junior Hockey League, 1959-1967) sold and renamed St. Boniface Saints
(Winnipeg and District Junior Hockey League, 1919-21) withdrew
(Winnipeg and District Junior Hockey League, 1922-28) withdrew
(Winnipeg and District Junior Hockey League, 1919-21) withdrew
(Manitoba Junior Hockey League, 1931-33) fold after failed merger with Winnipeg Columbus Club
(Manitoba Junior Hockey League, 1936-1938) folded
Charleswood Hawks (Manitoba Major Junior Hockey League, 1970-Present)
East Kildonan Knights (Manitoba Major Junior Hockey League, 1972-1981) folded, replaced by River East Royal Knights
Fort Garry Blues (Manitoba Major Junior Hockey League, 1970-2005) become Fort Garry/Fort Rouge Twins
Fort Garry/Fort Rouge Twins (Manitoba Major Junior Hockey League, 2005-Present)
River East Royal Knights (Manitoba Major Junior Hockey League, 1981-Present)
St. Boniface Riels (Manitoba Major Junior Hockey League, 1971-Present)
St. James (Manitoba Major Junior Hockey League, 1970-1971) folded
St. James Canucks (Manitoba Major Junior Hockey League, 1978-Present)
St. Vital Victorias (Manitoba Major Junior Hockey League, 1975-Present)
Transcona Railer Express (Manitoba Major Junior Hockey League, 2012-Present)
Transcona Railers (Manitoba Major Junior Hockey League, 1983-2011) folded
Transcona Titans (Manitoba Major Junior Hockey League, 1972-1976)
MTS Center (2004-Present)
Bell MTS Iceplex(2010-Present)
Olympic Rink (1923-1960's)
Shea's Amphitheatre (1909-1955)
Winnipeg Arena (1955-2004)
Tydell Park Community Centre Rink
Tuxedo Community Centre Rink
Valley Gardens Community Centre Rink
Varsity View Community Centre Rink
Victoria Community Centre Rink
Waverly Heights Community Centre Rink
West Kildonan Community Centre Rink
Robert A. Steen Memorial Community Centre Rink
Sturgeon Creek Community Centre Rink
Riverview Community Centre Rink
Roblin Park Community Centre Rink
Silver Heights Community Centre Rink
Sir John Franklin Community Centre Rink
River Osborne Community Centre Rink
Sinclair Park Community Centre Rink
South Transcona Community Centre Rink
Southdale Community Centre Rink
St. Norbert Community Centre Rink
Westdale Community Centre Rink
Weston Memorial Community Centre Rink
Woodhaven Park Community Centre Rink
Windsor Community Centre Rink
Winakwa Community Centre Rink
Willdwood Community Centre Rink
Westridge Community Centre Rink
Vince Leah Community Centre Rink
Archwood Community Centre Rink
Bord-Aire Community Centre Rink
Bourkevale Community Centre Rink
Bronx Park Community Centre Rink
Brooklands Community Centre Rink
Burton Cummings Community Centre Rink
Central Community Community Centre Rink
Chalmers Community Centre Rink
Clifton Community Centre Rink
Crescentwood Community Centre Rink
Lord Roberts Community Centre Rink
Luxton Community Centre Rink
Champlain Community Centre Rink
Melrose Community Centre Rink
Morse Place Community Centre Rink
Norberry Community Centre Rink
Norquay Community Centre Rink
North Kildonan Community Centre Rink
Northwood Community Centre Rink
Red River Community Centre Rink
Kirkfield-Westwood Community Centre Rink
Kelvin Community Centre Rink
Dakota Community Centre Rink
Deer Lodge Community Centre Rink
Earl Grey Community Centre Rink
East Elmwood Community Centre Rink
East End Community Centre Rink
Fort Garry Community Centre Rink
Garden City Community Centre Rink
Gateway Community Centre Rink
Glenlee Community Centre Rink
Glenwood Community Centre Rink
Greendell Community Centre Rink
Harrow Community Centre Rink
Greendale Community Centre Rink
Heritage-Victoria Community Centre Rink
Isaac Brock Community Centre Rink
Richmond Kings Community Centre Rink
Oxford Heights Community Centre Rink
Park City West Community Centre Rink
Maples Recreation Association Rink
Charles A Barbour Arena
East End Community Club
Canlan Ice Sports-Winnipeg
Keith Bodley Indoor Arena
Frank Wythe Recreation Centre
Pioneer Arena
Roland Michener Arena
River East Arena
Dutton Memorial Arena
River Height Community Centre Rink
Dakota Community Club
St. Vital Centennial Arena
St. Norbert Community Club
St. James Civic Centre Arena
Southdale Community Club
Sargent Park Arena
Sam Southern Arena
Assiniboia West Recreation Association Rink
Winnipeg Winter Club
Gateway Recreation Centre
Glenwood Community Club
Maples Multiplex
Maginot Arena
Notre Dame Arena
Allard Arena
River Heights Arena
Richmond Kings Community Centre
Max Bell Centre
Old Exhibtion Arena
West Kildonan Memorial Indoor Arena
Notre Dame Recreation Association Rink
Ralph Brown Recreation Association Rink
Champions
Edit
World Championships
Edit
Players and coaches
Edit