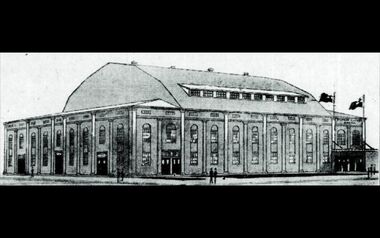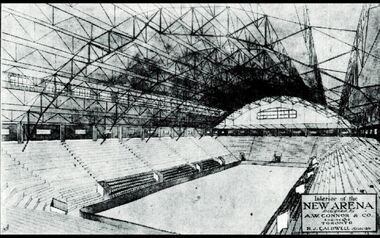 Windsor Arena
Location
334 Wyandotte St. E., Windsor, Ontario
Opened
1924
Owner
City of Windsor
Former names
Border Cities Arena
Tenants
Windsor minor hockey (1924-present)
Windsor Spitfires (OHL) (1975-2008)
Detroit Red Wings (NHL) (1926–1927)
Capacity
Ice hockey: 4,400
Concerts: 6,264
Windsor Arena (nicknamed The Barn, because of its age, wooden construction, and its appearance of a giant barn) is an indoor arena located in Windsor, Ontario. Its capacity is approximately 4,400 with standing room. The arena's ice is an asymmetrical 80 feet by 195 feet or 15,600 square feet (24.4 m x 59.4 m or 1,449 m²). The arena was the home of the Windsor Spitfires of the Ontario Hockey League from 1975-2008, at which time the team's home was moved to the WFCU Centre.
Often regarded as one of the most difficult buildings to play in the OHL because of the loud fans and the claustrophobic atmosphere, the arena is sometimes referred to as the "Madhouse on McDougall (Street)" by locals, but more commonly simply "The Barn".
History
Originally named the Border Cities Arena, it hosted the Detroit Cougars (later re-named the Detroit Red Wings) for the 1926-1927 NHL season, while the Olympia Stadium was under construction. The Border Cities Arena, built in 1925 for the local junior hockey team, was expanded from 6,000 to 9,000 for the Cougars. The arena was later renamed the Windsor Arena.
Having been constructed in 1924, the arena is among the oldest of its type in North America. Inside the arena's halls are pictures of teams gone by, of old matches and players, and of the construction of "The Barn", along with historic newspaper clippings related to the hockey teams that played under its roof over the years. Adding to this "throwback" experience is the odor of the arena concourse during Spitfires games, especially near the teams' respective dressing rooms. The obvious odor of heated OHL competition coats the cramped quarters between bench and locker room.
In 2006, a new arena, located in the city's east side off Lauzon Road, was approved by the Windsor city council. The decision to replace the arena is attributed to complaints about Windsor Arena's seating and tiny concourses. Nevertheless, it is still a functional space and considering the heavy demand for ice time in the city's minor hockey leagues, it is expected to remain in operation for minor hockey teams for years to come.
The Spitfires' final game at the Windsor Arena was played on December 4, 2008. Windsor beat the Guelph Storm 2-1, giving the Spitfires a perfect 12-0 record at The Barn for the 2008-09 season.
Photo Gallery
External links
"Famous Canadian Arenas" exhibit at the National Library of Canada's Virtual Museum of Canada exhibit. "Windsor Arena"