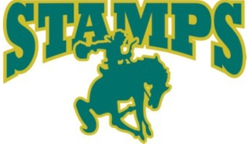 The
Williams Lake Stampeders
were an intermediate and senior hockey team in
Williams Lake
,
British Columbia
. They played in the
Cariboo Hockey League
from the league's founding in 1936 until 1979.
The Stampeders have won the league title three times - in 1960-61, 1962-63 and 2009-10
The team was revived in 1996 after the Junior "A" Williams Lake Mustangs folded.   It has mostly played in the Central Interior Hockey League since then.
The modern incarnation of the Stampeders have won the Coy Cup, the senior championship of British Columbia in 2008, 2009, 2013, and 2014.
Season-by-season record
Edit
Modern Incarnation
Edit
Note: GP = Games played, W = Wins, L = Losses, T = Ties, OL = Overtime Losses,, Pts = Points, GF = Goals for, GA = Goals against
Season
League
GP
W
L
T
OL
Pts
GF
GA
Finish
Playoffs
1996-97
CIHL
12
9
3
0
-
18
91
55
2nd
Lost Final
1997-98
CIHL
-
1998-99
CIHL
-
1999-00
CIHL
16
0
15
1
-
1
-
-
5th
Did not qualify
2000-01
CIHL
8
3
5
0
-
6
32
41
T-2nd
2001-02
CIHL
-
2002-03
CIHL
did not play
2003-04
CIHL
16
10
5
1
-
21
108
79
2nd
Lost Semifinals
2004-05
CIHL
14
1
9
4
-
6
44
68
8th
Did not qualify
2005-06
CIHL
20
4
16
0
-
8
85
116
7th
Did not qualify
2006-07
CIHL
20
16
3
1
-
33
144
85
1st East
Lost Final
2007-08
CIHL
16
8
6
-
2
18
89
70
3rd East
2008-09
CIHL
18
9
8
-
1
19
91
83
3rd East
Won Championship
2009-10
CIHL
16
8
6
-
2
18
81
72
3rd East
Won Championship
2010-11
CIHL
16
11
1
-
1
23
110
74
2nd East
Won Championship
2011-12
CIHL
18
13
5
-
0
26
130
83
1st East
Lost Final
2012-13
CIHL
18
12
5
-
1
25
95
70
1st East
Lost Final
2013-14
CIHL
18
13
4
-
1
27
109
77
1st East
Lost Final
2014-15
CIHL
16
15
1
-
0
30
116
58
1st East
Lost Final
2015-16
CIHL
16
12
4
-
0
24
109
60
1st East
Lost Final
2016-17
CIHL
16
12
4
-
0
24
105
63
1st East
Lost Final
2017-18
CIHL
16
9
5
0
2
20
75
69
T-2nd
Lost Final
2018-19
CIHL
16
12
4
-
0
24
113
73
T-1st
Lost Semifinals
External Link
Edit