Williams Arena
"The Barn"
Location
1925 SE University Ave
Minneapolis, MN 55455
Broke ground
1927
Opened
1928
Owner
University of Minnesota
Operator
University of Minnesota
Construction cost
$650,000
Former names
Minnesota Field House (1928-1950)
Tenants
Minnesota Golden Gophers
(Men's & Women's Basketball,
Men's & Women's Gymnastics,
Volleyball and Wrestling)
1951 NCAA Men's Division I Basketball Tournament
Capacity
14,625 (Arena proper)
5,700 (Sports Pavilion)
Williams Arena, located on the Twin Cities main campus of the University of Minnesota was the home of the University of Minnesota Minnesota Golden Gophers. The building is known affectionately as "The Barn," and its student section is known as The Barnyard.
Williams Arena is located on the Southwest corner of the intersection of University Avenue and 19th Ave. SE in Minneapolis on the East Bank of the University of Minnesota - Twin Cities, in a section of Minneapolis, Minnesota known as Stadium Village, named for the old Memorial Stadium that stood there until its demolition in 1992. TCF Bank Stadium, where the football team plays, is located across the street from Williams Arena.
History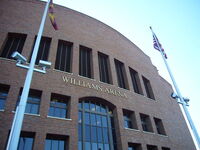 Initially known as the Minnesota Field House (another building has that name today), Williams Arena was constructed in the 1920s and opened in 1928. The arena was remodeled in the 1950s, and renamed Williams Arena after Dr. Henry L. Williams, the football coach from 1900 to 1921.
During a 1950s renovation, it was divided into two separate arenas within one building. The larger one for basketball and the smaller one for hockey were called Williams Arena until March 2, 1985, when the hockey section was renamed Mariucci Arena after John Mariucci. The hockey team moved into a new building across the street from Williams in the early 1990s. This building was also named Mariucci Arena. The old Mariucci Arena within Williams was remodeled into the Sports Pavilion and now houses the volleyball, wrestling and gymnastic teams.
The venue hosted the 1951 NCAA Men's Division I championship game and the Frozen Four in 1958 and 1966.
External links