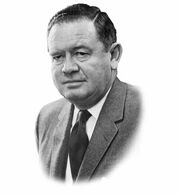 William Thayer Tutt (born March 2, 1912 in Coronado, California - died February 24, 1989 at El Paso) was an executive for several ice hockey leagues and organizations.
Tutt was instrumental in bring the first NCAA Men's Ice Hockey Championships to the Broadmoor World Arena in Colorado Springs, Colorado. He would also help bring the Soviet Union's ice hockey team to the United States for the first time in 1959. From 1966 to 1969, he was president of the International Ice Hockey Federation.
Tutt was elected to the United States Hockey Hall of Fame in 1973 and the Hockey Hall of Fame in 1978.
External links
[
]