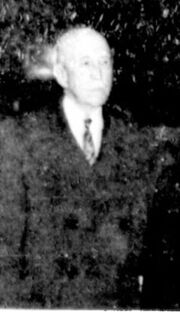 William M. Northey (born April 29, 1872 - August 9, 1963), was a builder in the National Hockey League.
Born in Leeds, Quebec, Northey became secretary at the Montreal Hockey Club in 1893. He would help lead the team to two Stanley Cups. In 1909, he helped convince ice hockey executives to change two rules still in place today. The first was the change from a game consisting of two 30 minute halves to three 20 minute periods. He was also instrumental in the decision to discontinue the rover position. The number of players on the ice per team was dropped to six.
He formed the Canadian Arena Company and was instrumental in building Arena Gardens in Toronto, and owned Montreal Arena, which burned down in 1918. In 1924, he helped construct the famous Montreal Forum. From 1947 to 1946 he served as Vice President with Montreal. He spent the 1956-57 season as President of the Montreal Canadiens. The Canadiens were sold to Molson Family in summer of 1957, and Northey retired from hockey. William Northey name was engraved on the Stanley Cup 3 times in 1953, 1956, 1957.
Northey was inducted into the Hockey Hall of Fame in 1947.
External links