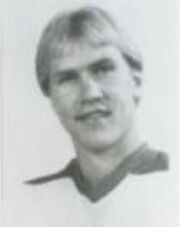 Willi Plett (born June 7th 1955 in Asunción, Paraguay) is a retired professional ice hockey player who played in the National Hockey League for the Atlanta Flames, the Calgary Flames, the Minnesota North Stars and the Boston Bruins.
Drafted in the 4th round of the 1975 NHL Amateur Draft, 80th overall by the Flames from the St. Catharines Blackhawks, Plett played in 4 games with the Flames in 1975-76 before being sent down to the Tulsa Oilers to further develop. There, he found a man who perfectly understood his style in former NHL enforcer Orland Kurtenbach.
The following season, Plett again wore Tulsa's uniform, but was called back by the Flames, where he soon created a major surprise, not only by earning a regular spot, but by exploding to collect 33 goals in 64 games, a performance that gave him no less than the Calder Trophy, awarded to the league's top rookie. The big forward feared no one and plaed a rough game, but had a major edge over those other players who filled a similar role elsewhere in the league: Plett actually knew how to play hockey and was good at it. In 1980-81, with the newly relocated Calgary Flames, Plett went on to score a career-high 38 goals.
Two seasons later however, Plett was dealt to the Minnesota North Stars with the Flames' 4th round pick (Dusan Pacek) for Steve Christoff, Bill Nyrop and previously acquired St. Louis Blues' pick (Bill Reiserson). As he reached the thirties, Plett began more mature and lost his enthusiasm toward intimidation. Unfortunately, it's about all what the North Stars asked him, and consequently, his point production drastically fell. He wore the green shirt for 5 season before being traded to the New York Rangers for Pat Price on September 8th 1987. He never played for the Rangers - they didn't protect him in the 1987 NHL Waiver Draft, which gave the Boston Bruins the opportunity to grab him.
In a team loaded with tough players, and under the coaching of his former archrival Terry O'Reilly, he finally could fully fill his role of support player; he helped the Bruins reach the Stanley Cup final, a final his team lost to the Edmonton Oilers. Following the 1988 playoffs, he retired from professional hockey.
Au sein d'une équipe remplie de durs, et sous la tutelle de son ancien archrival Terry O'Reilly, il put enfin assumer pleinement son rôle de joueur de soutien et il atteint avec les Bruins la Finale de la Coupe Stanley, pour perdre aux mains des Oilers d'Edmonton. Il mit fin à sa carrière au terme des séries de 1988.
Community content is available under
CC-BY-SA
unless otherwise noted.