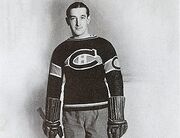 Wildor Larochelle (born September 23, 1906 in Sorel, Quebec, Canada - March 21, 1964) was a Canadian ice hockey forward.
Larochelle started his National Hockey League career with the Montreal Canadiens in 1925. He also played with the Chicago Black Hawks. He went on to win two Stanley Cups with Montreal in 1930 and 1931. He retired after the 1937 season.
Born in Sorel, Quebec, Larochelle played 33 games as a rookie with the Montreal Canadiens in 1926. The stocky forward played a regular shift for two years before spending most of the 1928-29 season with the Providence Reds of the Canadian American Hockey League. The next year he returned to Montreal and was a fixture in the line up for six and a half years.
Larochelle's timely scoring helped the Canadiens win consecutive Stanley Cups in 1930 and 1931. In 1931-32, he scored a career high 18 goals playing on a line with Pit Lepine and Armand Mondou. In December 1935, he was shipped to the Chicago Black Hawks for cash. The veteran forward was a useful worker for a year and a half in the Windy City before sitting out the 1937-38 season. He returned to play one more year with the AHL"s New Haven Eagles before retiring for good in 1939.
External links
[
]