Whitby Fury

City:
Whitby, Ontario, Canada
League:
Ontario Junior Hockey League
Founded:
1965
Home Arena:
Iroquois Park Sports Centre
Colors:
Blue, Gold, Black, and White


    

    

    

    

General Manager:
Ryan Ramsey
Head Coach:
Ryan Ramsey
Franchise history
1965-1972:
Oshawa Crushmen
1972-2006:
Oshawa Legionaires
2006-2008:
Durham Fury
2008-2021:
Whitby Fury
2021-present:
Haliburton County Huskies
The Whitby Fury were a Junior "A" ice hockey team from Whitby, Ontario, Canada. They are a part of the Ontario Junior Hockey League.
History
This franchise was founded in 1965 as the Oshawa Crushmen, and were initially a member of the Eastern Junior B Hockey League. In 1972, the Crushmen jumped to the Metro Junior B Hockey League and were renamed the Legionaires.
In the late 1970s, the Legionaires were coached by future National Hockey League coach "Iron" Mike Keenan. Keenan's star player during this time was a young Dale Hawerchuk.
At the end of the 2005-06 season, the Oshawa Legionaires were bought out by NHLers Keith Primeau, Wayne Primeau, as well as business man Peter Tosh. Keith had recently retired due to injury and created his own equipment line known as "Fury", based out of Oshawa. In turn, the Primeaus bought the local team and named them to reflect the name of his company.
In 2008, the Fury relocated to Whitby, Ontario, and now play out of the Iroquois Park Sports Centre.
On May 5, 2021 the team was approved to relocate to the renovated S.G. Nesbitt Memorial Arena in Minden, Ontario and were renamed the Haliburton County Huskies.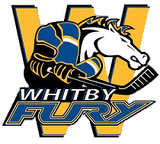 Staff
Ownership Group: Scott McCrory, Bill Feaver, Alex Sirrizzotti, Rico Sirrizzotti,Marc Bole
General Manager: Ryan Ramsey
Head Coach: Ryan Ramsey
Season-by-season results
Season
GP
W
L
T
OTL
GF
GA
P
Results
Playoffs
1965-66
33
19
12
2
-
177
112
40
2nd EJBHL
Won League
1966-67
Statistics Not Available
1967-68
31
19
11
1
-
202
150
39
3rd EJBHL
Won League
1968-69
30
20
8
2
-
--
--
42
1st EJBHL
Won League
1969-70
30
20
7
3
-
194
106
43
1st EJBHL
1970-71
30
21
7
2
-
177
105
44
2nd EJBHL
1971-72
Statistics Not Available
1972-73
34
17
13
4
-
148
139
38
4th Metro B
1973-74
44
19
23
2
-
219
239
40
8th Metro B
1974-75
38
4
30
4
-
138
190
12
13th Metro B
1975-76
34
22
5
7
-
208
135
51
1st Metro B
1976-77
34
17
10
7
-
179
147
41
2nd Metro B
1977-78
36
27
4
5
-
233
133
59
1st Metro B
1978-79
44
34
6
4
-
311
165
72
1st Metro B
1979-80
42
18
20
4
-
197
219
40
9th Metro B
1980-81
42
25
12
5
-
254
153
55
2nd Metro B
1981-82
36
18
15
3
-
169
153
39
5th Metro B
1982-83
36
16
16
4
-
137
126
36
5th Metro B
1983-84
42
24
14
4
-
183
145
52
3rd Metro B
1984-85
36
25
9
2
-
193
133
54
2nd Metro B
1985-86
37
16
17
4
-
222
204
36
7th Metro B
Lost Quarter-final
1986-87
37
20
15
2
-
209
167
42
5th Metro B
Lost Quarter-final
1987-88
37
11
20
6
-
147
182
28
10th Metro B
DNQ
1988-89
40
17
15
8
-
183
175
42
5th Metro B
1989-90
44
20
13
11
-
248
177
51
7th Metro B
1990-91
44
30
8
6
-
262
151
66
2nd Metro B
1991-92
44
10
32
2
-
158
252
22
11th Metro A
1992-93
48
16
29
3
-
196
237
35
12th Metro A
1993-94
50
25
24
1
-
244
237
51
8th Metro A
DNQ
1994-95
49
18
30
1
-
199
240
37
11th Metro A
1995-96
52
13
38
1
-
184
286
27
11th Metro A
DNQ
1996-97
50
20
30
0
-
231
292
40
10th Metro A
1997-98
50
34
15
1
-
266
183
69
3rd Metro A
1998-99
51
26
20
3
2
221
214
57
5th OPJHL-E
1999-00
49
13
29
4
3
157
212
33
8th OPJHL-S
2000-01
49
23
22
2
2
176
181
50
5th OPJHL-S
2001-02
49
14
25
7
3
158
226
38
8th OPJHL-S
2002-03
49
24
21
3
1
189
184
52
6th OPJHL-S
2003-04
49
24
21
4
0
164
214
52
5th OPJHL-S
2004-05
49
8
37
1
3
111
264
20
8th OPJHL-S
2005-06
49
9
35
4
1
144
241
23
8th OPJHL-S
Lost Conf. QF
2006-07
49
16
31
2
0
131
207
34
6th OPJHL-S
Lost Conf. QF
2007-08
49
13
31
-
5
171
267
31
7th OPJHL-S
2008-09
49
16
30
-
3
181
250
35
7th OJHL-R
2009-10
50
24
22
-
4
182
198
52
7th CCHL-E
Lost Preliminary
2010-11
50
22
17
-
11
170
158
55
6th OJHL-E
DNQ
2011-12
49
28
12
-
9
178
132
65
4th OJHL-E
Lost Final
2012-13
55
31
19
-
5
171
157
67
3rd OJHL-E
Lost Conf. QF
2013-14
53
35
14
-
4
227
164
74
2nd OJHL-E
Lost Conf. QF
2014-15
54
27
21
2
4
189
172
60
6th OJHL-E
Lost Conf. QF
2015-16
54
25
23
1
5
180
189
56
5th of 5 East Div
7th of 11 NE Conf
13th of 22 OJHL
Lost Conf. Quarters 1-4 (Royals)
2016-17
54
38
11
1
4
226
147
81
3rd of 5 East,
3rd of 11 Northeast,
5th of 22 OJHL
Lost Conf. Quarterfinals 3-4 (Dukes)
2017-18
54
18
31
4
1
139
190
41
5th of 5 East,
9th of 11 Northeast,
20th of 22 OJHL
Did not qualify
2018-19
54
18
31
4
1
139
190
41
3rd of 6 East,
4th of 11 Southeast,
5th of 22 OJHL
Lost Conf. Semis 3-4 (Dukes)
2019-20
54
21
12
3
5
225
151
76
2nd of 6 West Div.
Lost Conf. Final 1-4 (Golden Hawks)
2020-21
Season cancelled due to COVID-19 pandemic restrictions in province of Ontario
Playoffs
MetJHL Years
1992 DNQ
1993 DNQ
1994 DNQ
1995 DNQ
1996 DNQ
1997 Lost Preliminary
OJHL Years
2015 "Lost Conference Quarterfinals
Notable alumni
External links
</noinclude>