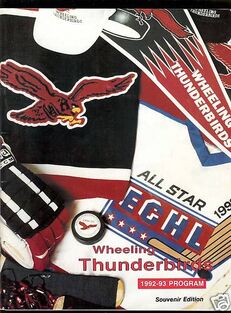 The Wheeling Nailers are an ECHL ice hockey team based in Wheeling, West Virginia.
The Wheeling Nailers are the ECHL Affiliate of the Pittsburgh Penguins of the NHL and the Wilkes-Barre/Scranton Penguins of the AHL. Wilkes-Barre/Scranton was previously the Cornwall Aces before they became Pittsburgh's affiliate in 1996.
Franchise history
One of the oldest low-minor league hockey teams, the franchise began play in 1982 in the Atlantic Coast Hockey League as the Carolina Thunderbirds based in Winston-Salem, North Carolina. The team, along with the Virginia Lancers, joined the All-American Hockey League in 1987, which lasted just the 1987–88 season, after which the Thunderbirds, Lancers, and Johnstown Chiefs formed the basis for the modern ECHL, of which the Thunderbirds won the first ECHL playoff championship, then known as the Jack Riley Cup, defeating the Johnstown Chiefs, 4-3 for the 1988–89 season. They became the Winston-Salem Thunderbirds in 1990 and moved to Wheeling in 1992 under the leadership of President and co-owner Ed Broyhill.
After a trademark dispute with the junior league Seattle Thunderbirds, the club became the Nailers for the 1996–97 season when the franchise held a contest open to local fans, which was won by C. J. Wickham of Steubenville, Ohio. The name "Nailers" was chosen for the city's long history of nail manufacturing. The team colors are black, red, and Vegas gold.
The team plays at the WesBanco Arena (formerly the Wheeling Civic Center). After missing the playoffs for five straight seasons, they had a 106-point season in 2003–04. They were defeated by the Reading Royals in 5 games, 3-2. In season 2005–06 they had a great season making it to the second round of the playoffs losing to Toledo in the final second of the final game.
The Nailers were the inaugural ECHL champion in the playoffs, yet hold the record with three Brabham Cup titles.
Main rival
The Nailers main rival inside the ECHL is the Johnstown Chiefs, and both teams have been rivals for 21 seasons, counting the ACHL year before they became the ECHL. At the beginning of the 2007–08 season, opening night featured the two teams wearing 1988–89 era jerseys to celebrate the 20th ECHL season.
Season-by-season results
Regular Season
Playoffs
Season
GP
W
L
T
OTL
SOL
Pts
GF
GA
Standing
Year
Prelim
1st round
2nd round
3rd round
Kelly Cup
Wheeling Thunderbirds
1992–93
64
40
16
—
8
—
88
314
223
1st, East
1993
—
BYE
W, 3–1, JHN
W, 4–2, RAL
L, 2–4, TOL
1993–94
68
38
23
—
7
—
83
327
289
3rd, North
1994
—
W, 2–0, NSH
W, 3–1, HR
L, 0–3, TOL
—
1994–95
68
46
17
—
5
—
97
313
243
1st, North
1995
—
L, 0–3, BIR
—
—
—
1995–96
70
42
23
—
—
5
89
289
261
2nd, North
1996
—
W, 3–0, CLB
L, 1–3, TAL
—
—
Wheeling Nailers
1996–97
70
36
29
5
—
—
77
298
291
4th, North
1997
—
L, 0–3, PEO
—
—
—
1997–98
70
37
24
9
—
—
83
255
255
2nd, North
1998
—
W, 3–2, DAY
W, 3–1, TOL
L, 2–4, HR
—
1998–99
70
27
37
6
—
—
60
206
249
6th, Northeast
1999
Out of playoffs
1999–2000
70
25
40
5
—
—
55
202
246
5th, Northeast
2000
Out of playoffs
2000–01
72
24
40
8
—
—
56
192
277
5th, Northeast
2001
Out of playoffs
2001–02
72
36
32
4
—
—
76
213
208
5th, Northeast
2002
Out of playoffs
2002–03
72
28
41
3
—
—
59
193
261
6th, Northeast
2003
Out of playoffs
2003–04
72
51
17
4
—
—
106
259
188
1st, North
2004
BYE
L, 2–3, REA
—
—
—
2004–05
72
38
29
5
—
—
81
171
173
6th, North
2005
—
Out of playoffs
2005–06
72
45
21
6
—
—
96
247
186
2nd, East
2006
BYE
W, 3–1, REA
L, 2–3, TOL
—
—
2006–07
72
32
34
6
—
—
70
215
255
7th, North
2007
Out of playoffs
2007–08
72
22
43
—
3
4
51
186
284
7th, North
2008
Out of playoffs
2008–09
72
36
28
—
2
6
80
263
260
4th, North
2009
—
L, 3–4, CIN
—
—
—
2009–10
72
33
35
—
2
5
73
240
249
4th, North
2010
—
Out of playoffs
2010–11
72
38
29
—
0
5
81
230
210
2nd, North
2011
—
W, 3–1, SC
W, 4–3, GRN
L, 2–4, KAL
—
2011–12
72
37
26
—
4
6
83
219
202
2nd, Atlantic
2012
—
L, 1–3, KAL
—
—
—
2012–13
72
31
29
—
3
9
74
193
225
3rd, Atlantic
2013
—
Out of playoffs
2013–14
72
39
27
—
1
5
84
216
196
2nd, Atlantic
2014
—
W, 4–0, SC
L, 2–4, GRN
—
—
2014–15
72
37
33
—
1
1
76
210
213
4th, North
2015
—
L, 3–4, TOL
—
—
—
2015–16
72
37
26
—
5
4
83
214
211
2nd, North
2016
—
W, 4–2, FLA
W, 4–3, REA
W, 4–3, SC
L, 2–4, ALN
2016-17
72
34
30
—
8
0
76
244
239
5th, North
2017
Out of playoffs
2017-18
72
35
28
—
8
1
79
248
245
5th, North
2018
Out of playoffs
2018-19
72
31
31
—
6
4
72
239
240
6th, North
2019
Out of playoffs
2019-20
59
24
30
-
5
0
53
163
206
6th Central

2020

season cancelled
2020-21
68
22
39
-
6
1
51
196
241
7th Eastern
2021
Out of playoffs
Notable Nailers Alumni
Head Coaches
References
External links