For other leagues with the same name, please see Western Hockey League.
---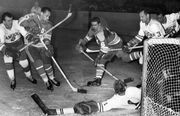 The Western Hockey League is a now defunct minor professional league in North America that existed from 1952 to 1974. Created out of the merger of the Pacific Coast Hockey League and the Western Canada Senior Hockey League, the WHL epanded much in the 1960s toward the southwestern coast; this expansion and the threat that it posed to the National Hockey League of becoming a rival major hockey league forced the latter league to announce its 1967 NHL Expansion plans.
The league finally had to cease its activities in 1974, after both the NHL and the World Hockey Association had moved into its traditional markets and the resulting diluted talent pool lowered the quality of play and the player availability.
Teams
| Team | Location | Arena | Tenure | Notes |
| --- | --- | --- | --- | --- |
| Calgary Stampeders | Calgary, Alberta | Stampede Corral | 1952-1963 | folded |
| Edmonton Flyers | Edmonton, Alberta | Edmonton Gardens | 1952-1963 | folded |
| New Westminster Royals | New Westminster, British Columbia | Queen's Park Arena | 1952-1959 | folded |
| Saskatoon Quakers | Saskatoon, Saskatchewan | Saskatoon Arena | 1952-1956 | folded |
| Seattle Ironmen | Seattle, Washington | Seattle Civic Ice Arena | 1952-1953 | renamed Bombers |
| Tacoma Rockets | Tacoma, Washington | Tacoma Ice Palace | 1952-1953 | folded |
| Vancouver Canucks | Vancouver, British Columbia | PNE Forum, (1952-1968) Pacific Coliseum (1968-1970) | 1952-1970 | Join National Hockey League |
| Victoria Cougars | Victoria, British Columbia | Victoria Memorial Arena | 1952-1961 | Moved to Los Angeles |
| Seattle Bombers | Seattle, Washington | Seattle Civic Ice Arena | 1953-1954 | Suspended operations for 1954-55 season |
| Regina Regals | Regina, Saskatchewan | Regina Exhibition Stadium | 1955-1955 | Relocated to Brandon, Manitoba during season |
| Brandon Regals | Brandon, Manitoba | Wheat City Arena | 1955-1957 | Become Saskatoon/St. Paul Regals |
| Seattle Americans | Seattle, Washington | Seattle Civic Ice Arena | 1955-1957 | renamed Totems |
| Winnipeg Warriors | Winnipeg, Manitoba | Winnipeg Arena | 1955-1961 | Moved to San Francisco |
| Saskatoon/St. Paul Regals | Saskatoon, Saskatchewan/St. Paul, Minnesota | Saskatoon Arena/St. Paul Auditorium | 1957-1958 | abandon St. Paul |
| Saskatoon Quakers | Saskatoon, Saskatchewan | Saskatoon Arena | 1958-1959 | folded |
| Spokane Flyers | Spokane, Washington | Spokane Coliseum | 1958-1960 | renamed Spokane Spokes |
| Portland Buckaroos | Portland, Oregon | Memorial Coliseum | 1960-1974 | Joined Western International Hockey League |
| Spokane Spokes | Spokane, Washington | Spokane Coliseum | 1960-1963 | Relocated to Denver |
| Los Angeles Blades | Los Angeles, California | Los Angeles Memorial Sports Arena | 1961-1967 | city gets National Hockey League team |
| San Francisco Seals | San Francisco/Daly City, California | Cow Palace | 1961-1966 | become California Seals when move to Oakland |
| Denver Invaders | Denver, Colorado | Denver Coliseum | 1963-1964 | relocated to Victoria |
| Victoria Maple Leafs | Victoria, British Columbia | Victoria Memorial Arena | 1964-1967 | Moved to Phoenix |
| Seattle Totems | Seattle, Washington | Seattle Civic Ice Arena, (1957-1962) Seattle Center Coliseum (1962-1974) | 1957-1974 | Joined Central Hockey League (1963-1984) |
| Salt Lake Golden Eagles | Salt Lake City, Utah | Salt Palace | 1969-1974 | Joined Central Hockey League (1963-1984) |
| California Seals | Oakland, California | Oakland-Alameda County Coliseum | 1966-1967 | Join National Hockey League |
| San Diego Gulls | San Diego, California | San Diego Sports Arena | 1966-1974 | Fold when city gets World Hockey Association team |
| Phoenix Roadrunners | Phoenix, Arizona | Arizona Veterans Memorial Coliseum | 1967-1974 | Joined World Hockey Association |
| Denver Spurs | Denver, Colorado | Denver Coliseum | 1969-1974 | Joined Central Hockey League (1963-1984) |
Awards
See Also
List of WHL (minor pro) Seasons