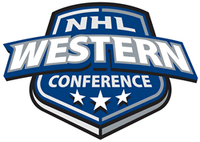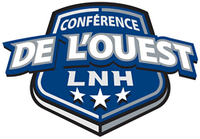 The Western Conference (French: Conférence de l'Ouest) is one of two conferences in the National Hockey League (NHL) used to divide teams. Its counterpart is the Eastern Conference.
Previously known as the Clarence Campbell Conference, it was created in 1974 when the NHL realigned its teams into two conferences and four divisions. Because the new conferences and divisions had little to do with North American geography, geographical references were removed. The conferences and divisions were re-aligned in 1981 to better reflect the geographical locations of the teams, but the existing names were retained with the Campbell Conference becoming the conference for the NHL's westernmost teams. The names of conferences and divisions were changed in 1993 to reflect the their geographic locations. Then-new NHL commissioner Gary Bettman made the change to help non-hockey fans better understand the game, as the National Basketball Association, National Football League, and Major League Baseball all use geographic-based names for their conferences and divisions. However, the move angered purists and older hockey fans, who felt the change removed any touch of the history of the league. The trophy awarded to the conference champion, the Clarence S. Campbell Bowl, retains some connection to the heritage of the league.
Divisions
Prior to the 1993 realignment, the Campbell Conference consisted of the Norris Division and the Smythe Division. Currently, the Western Conference is comprised of 15 teams in three divisions: Central, Northwest, and Pacific.
Champions
† - The Philadelphia Flyers and the New York Islanders are no longer members of the Campbell/Western Conference. They moved to the Wales Conference prior to the 1981-82 NHL season.