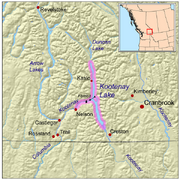 History
[
]
This was a senior league in southeastern British Columbia. This was an isolated, mountainous region that relied heavily on mining. The mining industry attracted a lot of hockey players who were able to get local jobs, a strong selling point during the Great Depression.
The league ran from 1922-23 through 1940-41. In 1941-42 it merged with the Alberta Senior League. After that the league suspended operations for three seasons due to World War II. It was resurrected in 1945-46.
In 1946-47 the league expanded to Spokane and Los Angeles and became the Western International Hockey League.
In its 20 years of operation, the West Kootenay League won every British Columbia Senior Championship (Savage Cup) after its first season (1922-23) and won the Allan Cup twice. Both Allan Cup champions (see below) went to Europe and won the World Championship.
List of Champions
[
]
- * Won Allan Cup
See also
[
]
For the 1941-42 season, please see 1941-42 Alberta Senior Playoffs.
For seasons after 1945-46, please see Western International Hockey League.
For a list of West Kootenay League seasons, please see List of WKHL Seasons.