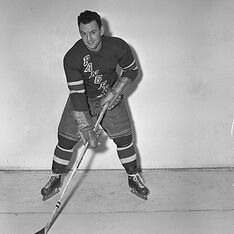 Wes "Bucko" Trainor (born September 11, 1922 in Charlottetown, Prince Edward Island - November 21, 1991) was a professional ice hockey left winger who played 17 games in the National Hockey League. He played with the New York Rangers.
He played junior hockey for the Charlottetown Royals from 1937 to 1940 and then joined the Canadian miltary for World War II. After one season with the Petawawa Army Grenades in 1940-41 he was out of hockey until 1945,
In 1945-46 he played for the senior Drummondville Intrepides and in 1946-47 for the Moncton Hawks. Trainor turned pro with the St. Paul Saints in 1947-48 and got a callup to the New York Rangers in 1948-49. He scored a goal and two assists in 17 games.
He played minor pro with the Saints and the New Haven Ramblers in 1948-49 and 1949-50. In 1950-51 he came back home to the Charlottetown Islanders of the Maritime Major Hockey League for two seasons. In 1952-53 he took off a year to coach the junior Grand Falls Cataracts in Newfoundland and Labrador.
Trainor returned to the Islanders in 1953-54 and then went back to Grand Falls to coach and play for two seasons. He retired in 1956.
References
Edit
Community content is available under
CC-BY-SA
unless otherwise noted.