Webster Bank Arena
Location
600 Main Street
Bridgeport, Connecticut 06604
Broke ground
2000
Opened
2001
Owner
City of Bridgeport, CT
Operator
Centerplate
Tenants
Bridgeport Sound Tigers (AHL) (2001-present)
Fairfield University Stags
Capacity
10,000
The Webster Bank Arena (formerly the Arena at Harbor Yard) is a 10,000-seat multi-purpose arena in Bridgeport, Connecticut. It is home to the Bridgeport Sound Tigers. It is also home to the Fairfield University Stags men's and women's basketball teams. The arena is built alongside The Ballpark at Harbor Yard. The Arena opened its doors in October 2001. Arena at Harbor Yard is located at 600 Main Street in Bridgeport, CT. It houses 33 executive suites, 1300 club seats, 3 large hospitality suites, and wide concourses.
Webster Bank signed a 10 year, $3.5 million agreement for the naming rights on January 6, 2011.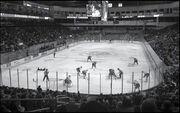 NHL Preseason Hockey
On September 30, 2006, The Arena at Harbor Yard hosted an NHL Preseason game between the New Jersey Devils and the New York Islanders. The Islanders are the NHL affiliate of the Bridgeport Sound Tigers, who play all of their AHL home games at the Harbor Yard. The Islanders defeated the Devils by a score of 3-0.
External links