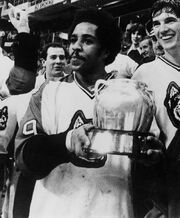 Wayne "Beanpot" Turner is a member of the Northeastern University athletics Hall of Fame and a Northeastern hockey legend. Turner was inducted to the NU Hall of Fame in 1994.
While Turner has very respectable stats for his career, a stat line of 51-57-108, Turner is most well known for his overtime strike during the 1980 Beanpot Championship to give the Huskies their first title. February 11, 1980 was the date the Northeastern Huskies hockey became a nationally relevant program winning the Beanpot, and his goal also gave him the nickname of "Beanpot" Turner.
Turner's wrist shot has often been called the most important goal in Northeastern history, and is generally considered the marquee sporting moment for the university. It is also known as the "Shot Heard Round the Beanpot".
Right now, Turner is Director of Operations of the Human Resources Department at the Massachusetts Institute of Technology.
Community content is available under
CC-BY-SA
unless otherwise noted.