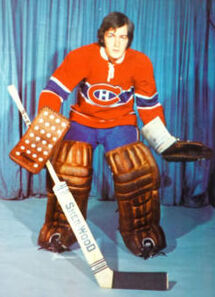 Robert Wayne "Twinky" Thomas (born October 9, 1947, in Ottawa, Ontario) is a Canadian former ice hockey goaltender.
Thomas played with the Ottawa Jr. Senators in the Central Junior A Hockey League and then moved to the University of Wisconsin/
Originally a Toronto Maple Leaf, Thomas was traded to the Los Angeles Kings but was later traded to the Montreal Canadiens. He spent roughly 3 years in the AHL with the Canadiens minor league affiliate, the Nova Scotia Voyageurs.
In 1972–73, in his first NHL pro start, Thomas recorded a 3–0 shutout versus the Vancouver Canucks on January 14, 1973. Thomas started a few games in goal right before the playoffs in order to give star netminder Ken Dryden a rest. Thomas did not dress for a playoff game. He was included on the Stanley Cup team picture, and given a Stanley Cup Ring. However, Thomas did not play enough games to qualify to be engraved on the Stanley Cup.
When Dryden decided to study law instead of tending goal in the 1973-74 NHL season Thomas played 42 games. However, Thomas was never really able to seriously contend for the starting goaltending position. In 1974–1975, Thomas was on the Canadiens' active roster for the entire season but did not play.
After his inactive 1974–75 campaign, Thomas was traded back to the Toronto Maple Leafs. This is where Thomas finally enjoyed some level of success. He won 28 games and was chosen to participate in the annual NHL All-Star game. This success was shortlived, because the following season Thomas struggled, and his position was overtaken by another Leaf goalie, Mike Palmateer.
In 1977–78, Thomas was placed on waivers and claimed by the New York Rangers. Thomas continued his career with the New York Rangers for 4 more years until retiring in 1981.
He then became an assistant goaltending coach with the Rangers for three years. In 1985 he was named the coach of the Salt Lake Golden Eagles of the International Hockey League (IHL) and lasted two seasons. Thomas won the Commissioner Trophy as IHL coach of the year in 1987-88 as the Eagles won the Turner Cup.
That won him a spot as an assistnat coach with the Chicago Blackhawks in 1987-88 which lasted only for one season. He coached the IHL's Peoria Rivermen for two seasons.
He was an assistant coach of the St. Louis Blues from 1991–93 and of the San Jose Sharks from 1993-96.
Thomas now serves as the general manager of the Worcester Sharks, the AHL affiliate of the San Jose Sharks.
External links
Edit
Community content is available under
CC-BY-SA
unless otherwise noted.