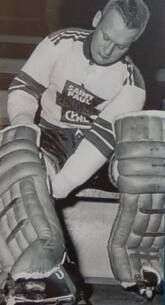 Wayne Alvin Rutledge (January 5, 1942 in Barrie, Ontario - October 5, 2004 in Huntsville, Ontario) was a goaltender in the National Hockey League for the Los Angeles Kings and completed his career in the World Hockey Association.
He played junior hockey for the Barrie Flyers and the Niagara Falls Flyers. Rutledge won the Allan Cup with the Windsor Bulldogs in 1962-63.
After being stuck in the minor pros for a time, he was chosen by the Los Angeles Kings from the New York Rangers in the 1967 NHL Expansion Draft. Rutledge was the Kings goaltender for three seasons and was sent down to the minors in 1970.
In 1972, he joined the Houston Aeros of the World Hockey Association and played for them until they folded in 1978. Rutledge won the Avco World Trophy in 1973-74 and 1974-75. He retired in 1979.
He died of stomach cancer on October 5, 2004.
Gallery
External Links