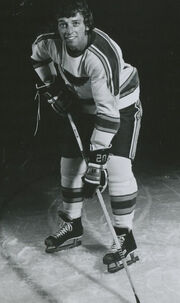 Wayne Merrick (born April 23, 1952 in Sarnia, Ontario) is a retired former professional player who played 774 career National Hockey League games for the St. Louis Blues, California Seals/Cleveland Barons and New York Islanders.
He was drafted in the first round, 9th overall, by the St. Louis Blues in the 1972 NHL Amateur Draft.
Playing career
[
]
Wayne Merrick helped provide toughness and grit to the talent-laden New York Islanders of the late seventies and early eighties. He played on the famed "Banana Line" centering John Tonelli and Bob Nystrom. He won four Stanley Cup rings with the Islanders between 1980 and 1983.
Career statistics
[
]
                                            --- Regular Season ---  ---- Playoffs ----
Season   Team                        Lge    GP    G    A  Pts  PIM  GP   G   A Pts PIM
--------------------------------------------------------------------------------------
1969-70  Ottawa 67's                 OHA    51   10   17   27   10  --  --  --  --  --
1970-71  Ottawa 67's                 OHA    62   34   42   76   41  --  --  --  --  --
1971-72  Ottawa 67's                 OHA    62   39   56   95   21  --  --  --  --  --
1972-73  St. Louis Blues             NHL    50   10   11   21   10   5   0   1   1   2
1972-73  Denver Spurs                WHL    22    6   13   19    6  --  --  --  --  --
1973-74  St. Louis Blues             NHL    64   20   23   43   32  --  --  --  --  --
1974-75  St. Louis Blues             NHL    76   28   37   65   57   2   1   1   2   0
1975-76  St. Louis Blues             NHL    19    7    8   15    0  --  --  --  --  --
1975-76  California Seals            NHL    56   25   27   52   36  --  --  --  --  --
1976-77  Cleveland Barons            NHL    80   18   38   56   25  --  --  --  --  --
1977-78  New York Islanders          NHL    37   10   14   24    8   7   1   0   1   0
1977-78  Cleveland Barons            NHL    18    2    5    7    8  --  --  --  --  --
1978-79  New York Islanders          NHL    75   20   21   41   24  10   2   3   5   2
1979-80  New York Islanders*         NHL    70   13   22   35   16  21   2   4   6   2
1980-81  New York Islanders*         NHL    71   16   15   31   30  18   6  12  18   8
1981-82  New York Islanders*         NHL    68   12   27   39   20  19   6   6  12   6
1982-83  New York Islanders*         NHL    59    4   12   16   27  19   1   3   4  10
1983-84  New York Islanders          NHL    31    6    5   11   10   1   0   0   0   0
--------------------------------------------------------------------------------------
         NHL Totals                        774  191  265  456  303 102  19  30  49  30

External links
[
]