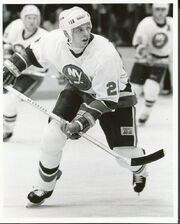 Wayne McBean (born February 21 1969, Calgary, Alberta, Canada ) is a retired defenceman. McBean played professionally in the National Hockey League with the New York Islanders, Los Angeles Kings, and Winnipeg Jets.
Playing career
During his junior career, McBean played in the WHL for Medicine Hat Tigers, notably accumulating 85 assists over three years. He was also a member of two Memorial Cup-winning teams in 1987 and 1988. In 1987, he was named to the WHL East first All-Star team and the Memorial Cup All-Star team and was the recipient of the Stafford Smythe Memorial Trophy as the tournament MVP. In 1988 McBean played for Canada in the World Junior Championship, winning a gold medal.
He was selected by the Los Angeles Kings 4th in the 1st round of the 1987 NHL Entry Draft. On February 22, 1989 Wayne was traded from the Los Angeles Kings with Mark Fitzpatrick and future considerations to the New York Islanders for goaltender Kelly Hrudey and Yan Kaminsky. He retired in 1994 after sustaining a wrist injury.
Career statistics
                                            --- Regular Season ---  ---- Playoffs ----
Season   Team                        Lge    GP    G    A  Pts  PIM  GP   G   A Pts PIM
--------------------------------------------------------------------------------------
1985-86  Medicine Hat Tigers         WHL    67    1   14   15   73  25   1   5   6  36
1986-87  Medicine Hat Tigers         WHL    71   12   41   53  163  20   2   8  10  40
1987-88  Medicine Hat Tigers         WHL    30   15   30   45   48  16   6  17  23  50
1987-88  Los Angeles Kings           NHL    27    0    1    1   26  --  --  --  --  --
1988-89  New Haven Nighthawks        AHL     7    1    1    2    2  --  --  --  --  --
1988-89  Los Angeles Kings           NHL    33    0    5    5   23  --  --  --  --  --
1988-89  New York Islanders          NHL    19    0    1    1   12  --  --  --  --  --
1989-90  Springfield Indians         AHL    68    6   33   39   48  17   4  11  15  31
1989-90  New York Islanders          NHL     5    0    1    1    2   2   1   1   2   0
1990-91  Capital District Islander   AHL    22    9    9   18   19  --  --  --  --  --
1990-91  New York Islanders          NHL    52    5   14   19   47  --  --  --  --  --
1991-92  New York Islanders          NHL    25    2    4    6   18  --  --  --  --  --
1992-93  Capital District Islander   AHL    20    1    9   10   35   3   0   1   1   9
1993-94  Salt Lake Golden Eagles     IHL     5    0    6    6    2  --  --  --  --  --
1993-94  New York Islanders          NHL    19    1    4    5   16  --  --  --  --  --
1993-94  Winnipeg Jets               NHL    31    2    9   11   24  --  --  --  --  --
--------------------------------------------------------------------------------------
         NHL Totals                        211   10   39   49  168   2   1   1   2   0

External links