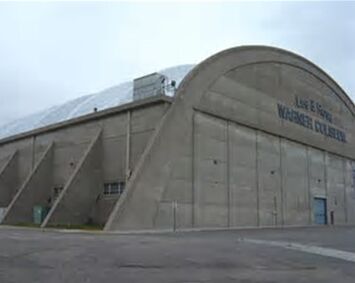 The Lee and Rose Warner Coliseum formerly known as the St. Paul Hippodrome and the State Fair Livestock Coliseum was a series of indoor arenas located in St. Paul, Minnesota.
The arena was built in 1951 at a cost of $1.2 million on the same site as the previous St. Paul Hippodrome. The facility served as the home to the Hamline Pipers of the NCAA Division III Minnesota Intercollegiate Athletic Conference until 2014 when they moved to the new Oscar Johnson Arena which is located about a mile from the campus. The facility would also host many games in the Minnesota State High School Hockey Tournament from 1951 to 2014. The death knell for the arena as a hockey venue came in February of 2014 when the State Fair Committee deem that the aging ice plant from the original construct was in need of extensive repairs and the ice was removed from the building for good.
Original St. Paul Hippodrome
Edit
The St. Paul Hippodrome opened in 1906 at a price of $100,000. The facility was home to the Hippodrome Skating Club of the Twin Cities and the St. Paul Athletic Club. The St. Paul team captured the MacNaughton Cup in 1915 and went to the national finals in 1922 and 1923. The arena itself contained the largest indoor ice sheet in the world at 270'x119'. The arena had natural ice which was frozen when all the doors and windows in the facility were opened and the natural cold would freeze the ice.
During World War II the building was lease to the government and converted into a propeller plant. The facility was badly damaged during the conversion and was deemed unsafe for use. The facility was torn down in 1946.