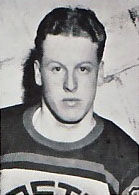 Walter Herbert "Happy" Harnott (born September 24, 1909 in Montreal, Quebec - January 8, 1977) was a Canadian professional ice hockey player who played eight games in the National Hockey League. He played with the Boston Bruins.
Harnott played junior and senior hockey in Montreal from 1928 to 1931.
He started his pro career in 1931 with the Bruins' farm team Boston Cubs of the Canadian American Hockey League. In his five seasons with the Cubs, Harnott only got into those eight games with the NHL Bruins.
He then played mostly with the St. Louis Flyers of the American Hockey Association until 1942. Starting in that year Harnott played for senior teams in Quebec until his retirement in 1945.
External Links
[
]