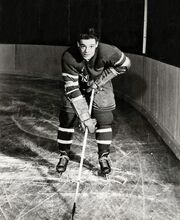 Walter "Ants" Atanas (born December 22, 1922 in Hamilton, Ontario) is a former Canadian ice hockey right winger. He played for the New York Rangers during the 1944-45 season, appearing in 49 games totalling 21 points.
He played junior for the Hamilton Whizzers in 1942-43 and then turned pro with the Buffalo Bisons in 1943-44. The New York Rangers accquired him in 1944 and brought him up to their war-ravaged roster. After scoring 13 goals and 8 assists in 1944-45 he was sent down to the minors and never played in the NHL again.
Atanas retired in 1957 after a season with the senior North Bay Trappers.
External links
[
]