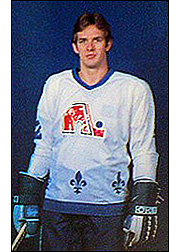 Wally Weir (born June 3, 1954 in Verdun, Quebec) is a retired professional ice hockey defenceman who played 320 games in the National Hockey League and 150 games in the World Hockey Association. He would with the Quebec Nordiques, Hartford Whalers, and Pittsburgh Penguins.
He played Tier II Junior "A" hockey with the Longueuil Rebels and, undrafted, turned pro with the Beauce Jaros in 1975-76. There he caught the eye of the Quebec Nordiques, then in the World Hockey Association (WHA) and was signed by them.
Weir was a regular for the Nordiques from 1976 on, winning the Avco World Trophy with them in 1976-77. After missing much of the 1977-78 season due to injury, Weir was a defensive fixture on the Nords through their WHA years and into the National Hockey League in 1979.
Partway through the 1983-84 season Weir was sent down to the Fredericton Express and, during the off-season, he was claimed by the Hartford Whalers. Weir only played in 34 games for the Whalers and then was claimed by the Pittsburgh Penguins in March, 1985. He played his last 14 NHL games for the Pens and spent the 1985-86 with the Baltimore Skipjacks.
Weir retired in 1986.
In the NHL Weir played in 320 games and scored 21 goals and 45 assists. In the WHA he played in 150 games, scoting 5 goals and 24 assists.
External links
Edit
Community content is available under
CC-BY-SA
unless otherwise noted.