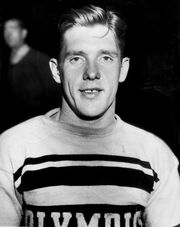 Walter "Wally" Kilrea (February 18, 1909 – July 3 1992) was a Canadian professional left winger who played 9 seasons in the National Hockey League for the Philadelphia Quakers, New York Americans, Ottawa Senators, Montreal Maroons and Detroit Red Wings. He was born in Ottawa, Ontario. His brothers Hec and Ken also played in the NHL.
Kilrea played two seasons for the senior Ottawa Montagnards (1927-28) and (1928-29) before turning pro with the Ottawa Senators.
He bounced around the NHL for a time and won the Stanley Cup with the Detroit Red Wings in 1935-36 and 1936-37.
Kilrea finished his career with the Hershey Bears of the American Hockey League with six seasons (1938-39 through 1943-44).
Awards & Achievements
[
]
Gallery
[
]
External Links
[
]