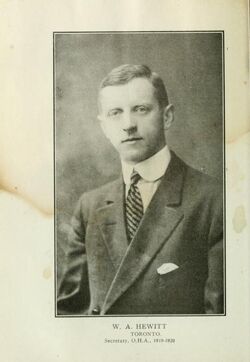 William Abraham "W. A." Hewitt (May 15, 1875 – September 8, 1966), was a leading Canadian sports journalist and sportsman.
Journalist
[
]
Born in Cobourg, Ontario, Hewitt moved to Toronto when he was four years old and later attended Jarvis Collegiate Institute. Hewitt and his three brothers all worked as journalists in their careers. While still in school, he began working for the Toronto News as a copyboy. At age 15 he was made a reporter and left school. In 1895, he became sports editor of the News and later supplemented his income as press agent for the Grand Opera House in Toronto.
In the fall of 1899, he was lured to the Montreal Herald as sports editor by Joseph E. Atkinson, the paper's managing editor, whom Hewitt had known and admired from Atkinson's days as a reporter in Toronto. A year later, Atkinson became editor-in-chief (and, eventually, majority owner) of the Toronto Star, and Hewitt followed him back to Toronto as the paper's sports editor. Hewitt remained in that role for 31 years, before accepting a job in 1931 as the first attractions manager of the new Maple Leaf Gardens. He passed the reins at the Star over to his long-time colleague, Lou Marsh. Over a 36-year career as a journalist, Hewitt never used a typewriter and wrote all his stories by hand.
Sportsman and manager
[
]
According to Gardens' owner Conn Smythe, Hewitt didn't make a smooth transition into his job as attractions manager, and after about a year was given other duties. Hewitt, however, would work at the Gardens for more than 30 years.
For 58 years, he served as secretary of the Ontario Hockey Association, taking the position on what was supposed to be a temporary basis in 1903, and holding it until stepping down in 1966 when he was in his mid-80s. He also served as an officer of the Canadian Amateur Hockey Association between 1915 and 1961.
Hewitt was honorary team manager of three consecutive Olympic gold medal winning hockey teams, the Winnipeg Falcons (1920), Toronto Granites (1924), and Toronto Varsity Grads (1928). He was also referee of the first Olympic hockey game, Sweden's 8-0 victory over Belgium at the 1920 Olympic Games. In 1924, he lost a coin toss to American William S. Haddock to determine who would be second vice-president of the International Ice Hockey Federation.
Legacy
[
]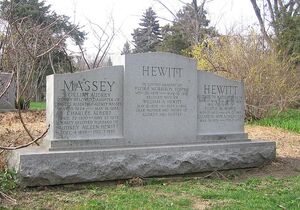 Hewitt was inducted into the Hockey Hall of Fame in 1947. His autobiography, Down The Stretch: Recollections of a Pioneer Sportsman and Journalist, was published in 1958. Hewitt's son, Foster Hewitt became a pioneering hockey broadcaster and also a member of the Hockey Hall of Fame. Foster's son Bill Hewitt followed in his father's footsteps to become a top hockey play-by-play man in Canada.
External links
[
]