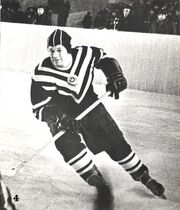 Vsevolod Mikhailovich Bobrov (; December 1, 1922 – July 1, 1979) was a Soviet athlete, who excelled in football, bandy, and ice hockey. He is considered one of the best Russians ever in all of those sports.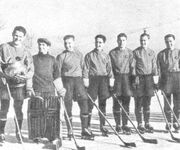 Bobrov was born in Morshansk. Bobrov began playing hockey for CSKA a year after his football start, in 1946. His playing career in this sport lasted until 1957, with the years between 1950 and 1953 spent with VVS. Although football was Bobrov's first sport, his success in hockey was even greater. In the Soviet Championship, that his teams won seven times, Vsevolod scored an amazing 254 goals in only 130 games. He played for the Soviet national team in the 1956 Winter Olympics, becoming one of the few athletes to participate in both the Summer and Winter games. Bobrov proceeded to lead his country to the gold medal, and also won the World Championship in 1954 and 1956. Overall, he scored 89 goals in 59 games for his country. In Russian hockey, his name was given to an exclusive list of players, the Bobrov Club, who scored over 250 goals during their career.
Bobrov, who served as a player-coach in both sports during his time with VVS, would go on to coach various teams after retiring as a player in both football and hockey. In the latter, he coached the USSR in the 1972 Summit Series and then led them to the World Championship in 1974 and 1975.
Vsevolod Bobrov died in Moscow in 1979. He was elected to the International Ice Hockey Federation Hall of Fame in 1997, the first year it was created.
Kontinental Hockey League has a division bearing his name.
External links