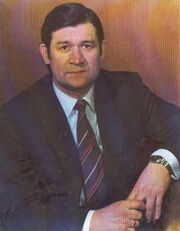 Vladimir Yurzinov (born February 20, 1940 in Moscow, Russia) is a retired ice hockey player who played in the Soviet Hockey League for HC Dynamo Moscow from 1957-72. He was inducted into the Russian and Soviet Hockey Hall of Fame in 1963. He was inducted into the IIHF Hall of Fame in 1992.
Yurzinov played for the Soviet Union's national team that won the 1963 World Championship and the 1969 World Championship and finished third in the 1961 World Championship. He also played in various exhibition games for the national team between 1961 and 1969.
After retiring from Dynamo Moscow in 1972, Yurzinov turned to coaching. He was coach of Dynamo from 1974–79 and one of the coaches of the national team from 1974 to 1987. Included were the 1981 Canada Cup and the 1984 Canada Cup. He then returned to Dynamo as the coach from 1989 to 1992.
Yurzinov coached TPS of Finland's SM-liiga in the 1990s. He won the Kalevi Numminen Trophy as the league's best coach for three straight seasons - 1993 to 1995.
External links