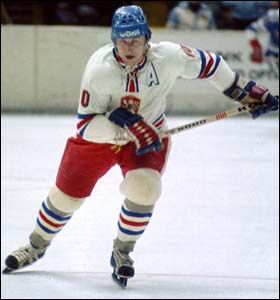 Vladimir Martinec (born December 22, 1949 in Lomnice, Czechoslovakia) was a Czech ice hockey right wing in the 1970s. He won the Golden Hockey Stick award as top player in Czechoslovakia four times, in 1973, 1975, 1976, and 1979.
Martinec played for Pardubice in the Czechoslovak Elite League from 1967 to 1981 except for 1978-79, when he played for Jihlava. Nicknamed "The Fox" due to the unpredicatability of his offensive manoevres, he scored 343 goals in 539 games in the elite league.
Martinec was a key player on Czechoslovak national teams in the 1970s. Known for his technical skills, he scored 155 goals in 289 international games. He played in the World Championships every year in the 1970s and in 1981 (on the winning side in 1972, 1976, and 1977, and making the all-star team in 1974, 1975, 1976 and 1977); he is 7th all-time leading scorer in World Championships, with 110 points (52 goals and 58 assists) in 102 games (top scorer in '76 with 20 points in 10 games).
He also played on the 1972, 1976, and 1980 Olympic teams, and in the 1976 Canada Cup where he scored 7 points (3+4) in 7 games.
He coached ESV Kaufbeuren in Germany (also coming back to play for this team in 1985), and then coached his old team Tesla Pardubice between 1986 and 1989.
Achievements & awards
External links