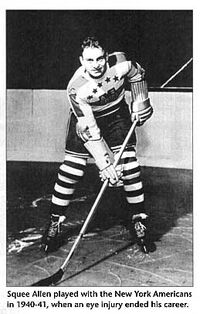 Vivian "Squee" Allen (born September 9, 1916 in Bayfield, New Brunswick) was a former ice hockey right winger who played for several teams over a 12 year career.
He started out in amateur hockey in Saskatchewan, playing for the intermediate Kerrobert Tigers and the senior North Battleford Beavers from 1934 to 1937. In 1937-38 he went to Northern Ontario's senior Creighton Eagles and in 1938-39 the Lethbridge Maple Leafs.
In 1939-40 Allen joined the River Vale Skeeters of the Eastern Hockey League and scored 73 points in 60 games. This caught the eye of the New York Americans. They assigned him to the Springfield Indians and called him up in November. Allen played in six games and scored one assist but suffered an eye injury that sent him back to the minors.
He played in the minors until his retirement in 1950, most notably for the Pittsburgh Hornets and the Dallas Texans.
He is the brother of George Allen.
Career Statistics
[
]
--- Regular Season ---  ---- Playoffs ----
Season   Team                        Lge    GP    G    A  Pts  PIM  GP   G   A Pts PIM
--------------------------------------------------------------------------------------
1938-39  Lethbridge Maple Leafs      ASHL    0    9    6   15   20  --  --  --  --  --
1948-49  Dallas Texans               USHL   24    7    6   13    6   4   0   1   1   0
1947-48  Dallas Texans               USHL   61   16   27   43   19  --  --  --  --  --
1946-47  Dallas Texans               USHL   58   34   18   52   14   6   0   0   0   4
1945-46  Dallas Texans               USHL   34   21   17   38   10  --  --  --  --  --
1945-46  Pittsburgh Hornets          AHL     2    0    0    0    0  --  --  --  --  --
1943-44  Pittsburgh Hornets          AHL    12    4    0    4    5  --  --  --  --  --
1942-43  Washington Lions            AHL     1    0    0    0    0  --  --  --  --  --
1942-43  Pittsburgh Hornets          AHL    46    6   32   38   18  --  --  --  --  --
1941-42  Pittsburgh Hornets          AHL    51   20   30   50   10  --  --  --  --  --
1940-41  New York Americans          NHL     6    0    1    1    0  --  --  --  --  --
1940-41  Springfield Indians         AHL    29    5    7   12    6  --  --  --  --  --
1939-40  River Vale Skeeters         EHL     0   26   47   73    0  --  --  --  --  --
1949-50  Saskatoon Quakers           WCSHL   0    0    0    0    0  --  --  --  --  --
--------------------------------------------------------------------------------------
         NHL Totals                          6    0    1    1    0  --  --  --  --  --