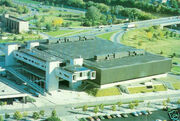 The Floyd L. Maines Veterans Memorial Arena (formerly the Broome County Veterans Memorial Arena) is a 6,800 (4,727/ for Hockey) multi-purpose arena in Binghamton, New York. The arena was completed in 1973, providing an entertainment venue for residents of the Greater Binghamton area. The design was created by a college student who had won a public design competition. Originally, the Broome County Forum was to be adjacent to the arena, but plans fell through due to lack of funds.
The first act at the arena was the Barnum & Bailey Circus, in May 1973. The band Chicago played the first concert at the arena (with Bruce Springsteen as opener) on June 20, 1973. The first regular tenant of the arena were the Binghamton Dusters of the North American Hockey League.
Today, the Broome County Arena is home to the Binghamton Senators, who are affiliated with the Ottawa Senators of the NHL.
The Broome County Arena was the home for the 2008 AHL All-Star Game.
Binghamton Hockey Hall of Fame
[
]
The Arena is home to the Binghamton Hockey Hall of Fame. Inductees:
1998: Ken Holland, Randy MacGregor, Jim Matthews
1999: Rod Bloomfield, Jacques Caron, Paul Stewart
2000: Paul Crowley, Paul Fenton, Larry Pleau
2001: Craig Duncanson, Pierre Laganiere, Brad Shaw
2002: Chris Cichocki, Peter Sidorkiewicz, Ross Yates
2003: Roger Neel, Peter Fiorentino
2004: Peter Laviolette, Jon Smith, Bob Sullivan
2005: Don Biggs, Dallas Gaume, Brad Jones
2006: Ken Gernander, Dave Staffen
2007: Gary Jaquith, Brian McReynolds
External links
[
]