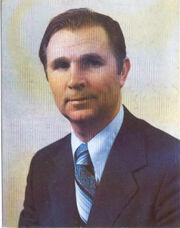 Viktor Vasilevich Tikhonov (Russian: Виктор Васильевич Тихонов) (June 4 1930 - November 24 2014) was a prominent defenceman and head coach. He most notably coached CSKA Moscow and the Soviet National Team during their prime time.
Playing career
Tikhonov played for both VVS MVO Moscow (the Soviet Air Force team) and Dynamo Moscow (KGB's) during a career that lasted 296 games from 1949 to 1963. A defenceman, Tikhonov scored 35 times during his career. He was four times gold medalist of the Soviet League (thrice with VVS and once with Dynamo) and won the USSR Cup in 1952 while playing for VVS.
Coaching career
In 1964, Tikhonov accepted the role of assistant coach for Dynamo Moscow. He later became head coach of Dinamo Riga.
In 1977, Tikhonov was appointed as CSKA's head coach; since CSKA was chiefly populated by Soviet National Team players, he was also appointed as the national team's head coach. His national team tenure lasted until 1994 (with Soviet Union's fall, his last years were behind the Russian National Team bench); as for his stay at CSKA, it ended in 1996.
Tikhonov was well known for his dictatorial coaching style. He had his players practice for 10 or 11 months and confined them to barracks for that time. He was particularly afraid of defections during his tenure; while he publicly supported his players' efforts to reach the National Hockey League, behind closed doors, he used of his contacts with in the Soviet Government to keep them from leaving. The most striking exemple is that of Vyacheslav Fetisov, who was drafted to the NHL in 1978 but could only leave 11 years later, in 1989, to join the New Jersey Devils. In fact, he never hesitated to cut players who he thought might defect. Just before 1991 Canada Cup, he cut Pavel Bure, Valeri Zelepukin, Evgeny Davydov and Vladimir Konstantinov, fearing they'd all defect if they were allowed to go to the West. That fear resulted in the Soviet's worst international performance ever, with the team eliminated after the round robin phase.
Viktor's son, Vasily is also a professional head coach; his grandson Viktor plays for Severstal Cherepovets and has been drafted to the NHL by the Phoenix Coyotes in the 2008 NHL Entry Draft.
Titles and honors
As player:
As coach:
In 1998, he was intronized to the International Ice Hockey Federation Hall of Fame as builder.
External Links