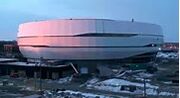 The Videotron Centre is a new multi-use indoor arena in Quebec City, Quebec that is currently in the building stages. It will mainly be used for ice hockey, and other indoor sports, as well as music concerts. It is due to open in 2015 and will have a capacity of 18,000 spectators. It is being built with the view of a relocated or expansion NHL franchise is put in Quebec City, though it is being funded whether or not one comes. It is also hoped that the arena can help Quebec City win a future Winter Olympic Games bid.  It is expected to be built next to Colisée Pepsi, the current main arena in Quebec City. Current plans call for the Colisée to be maintained as a secondary venue following completion of the new building. [1]
The arena will cost $400 million, and will be funded 50% by the city and 50% by the province. On March 1, 2011 Quebecor purchased the naming rights and management of the arena. The amount they will pay will depend whether or not a NHL team moves in, but it reportedly will be between $110 million and $200 million if the NHL does come and $33 million to $66 million if there is no NHL tennant.
The arena was originally to be called the Quebecor Arena  until April 7, 2015 when Videotron purchased the naming rights and operating rights along with Quebecor.
The Quebec Remparts of the Quebec Major Junior Hockey League were purchased by Quebecor on November 27, 2014 and will relocate to the new arena from the adjacent Colisée Pepsi for the 2015-16 hockey season.
Community content is available under
CC-BY-SA
unless otherwise noted.