The Victoria Grizzlies are a junior "A" ice hockey team based in Victoria, British Columbia. They are members of the Island Division of the British Columbia Hockey League (BCHL). They play their home games at The Q Centre.
Victoria Cougars 1967–71
Victoria Warriors 1990–93
Victoria Salsa 1994–2006
Victoria Grizzlies 2006–present
History
Victoria originally had a team by the name of Victoria Cougars, who joined the BCJHL for the start of the 1967-68 season which made the league a total of 6 teams. After a realignment of junior hockey in 1971, into "Major Junior" and "Tier II", the Cougars joined the WHL.
In 1990, the BCHL welcomed the Victoria Warriors as part of a 10 team league. After the Warriors moved to Cowichan Valley in 1993, the Victoria Salsa joined the BCJHL in 1994 as an expansion team.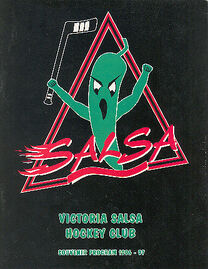 At the start of the 2006-07 season, the team changed its name. They dropped the Salsa, and renamed themselves the Grizzlies. The Grizzlies hosted 2009 Royal Bank Cup. In the 2013-14 season, they won the Island Division championship after beating Powell River 4-2 in game 6. They are currently In the race for the BCHL league championship.
Game broadcasts are available via audio (free) and Pay-Per-View, with Scott Didmon and Rick Burke calling the games.
Season-by-season record
Season
GP
W
L
T
OL
GF
GA
Pts
PIM
Finish
Playoffs
1967-68
40
11
23
6
-
146
198
28
6th, BCJHL
Did not qualify
1968-69
40
22
12
6
-
223
150
50
1st, BCJHL
Fred Page Cup Champions
Mowat Cup Champions
1969-70
48
31
12
5
-
238
155
67
2nd, BCJHL
Lost in Finals
1970-71
60
40
12
8
-
348
187
88
1st, BCJHL
Lost in Quarterfinals, 1-4 (Bruins)
1971-72
68
18
48
2
-
215
321
38
5th, West
Did not qualify
1972-73
68
13
51
4
-
231
390
30
5th, West
Did not qualify
1973-74
68
22
40
6
-
259
336
50
5th, West
Did not qualify
1974-75
70
47
18
5
-
416
257
99
1st, West & WCHL
Lost in Semifinals, 2-4 (Bruins)
1975-76
72
37
28
7
-
343
320
81
4th, West
Lost in Semifinals, 0-4 (Bruins)
1976-77
72
27
32
13
-
299
301
67
4th, West
Lost in Quarterfinals, 0-4 (Bruins)
1977-78
72
34
29
9
-
365
333
77
2nd, West
Lost in Division Finals, 1-4 (Bruins)
1978-79
72
34
27
11
-
318
295
79
2nd, West
Lost in Division Finals, 3-4 (Winter Hawks)
1979-80
72
51
21
0
-
349
226
102
2nd, West
Lost in Finals, 1-4 (Pats)
1980-81
72
60
11
1
-
462
217
121
1st, West & WHL
Ed Chynoweth Cup Champions, 4-3 (Wranglers)
1981-82
72
43
28
1
-
398
314
87
2nd, West
Lost in Division Semifinals, 0-4 (Breakers)
1982-83
72
47
24
1
-
444
335
95
2nd, West
Lost in Division Finals, 1-4 (Winter Hawks)
1983-84
72
32
40
0
-
340
338
64
5th, West
Did not qualify
1984-85
72
24
43
4
-
314
385
52
6th, West
Did not qualify
1985-86
72
22
49
1
-
346
439
45
6th, West
Did not qualify
1986-87
72
30
41
1
-
334
412
61
4th, West
Lost in Division Semifinals, 0-5 (Blazers)
1987-88
72
37
34
1
-
346
335
75
3rd, West
Lost in Division Semifinals, 3-4 (Chiefs)
1988-89
72
36
32
4
-
341
351
76
2nd, West
Lost in Division Semifinals, 3-5 (Blazers)
1989-90
72
5
65
2
-
221
565
12
6th, West
Did not qualify
1990-91
60
25
34
1
-
263
308
51
4th, Coastal
Lost in Semifinals, 3-4 (Paper Kings)
1991-92
60
25
34
1
-
303
363
51
4th, Coastal
Lost in Quarterfinals, 0-4 (Ice Hawks)
1992-93
60
17
37
6
-
259
387
40
5th, Coastal
Did not qualify
1993-94
0
-
-
-
-
-
-
-
-
Did Not Participate
1994-95
60
21
35
4
-
263
338
46
4th, Coastal
Did not qualify
1995-96
60
12
43
5
-
219
314
29
4th, Coastal
Did not qualify
1996-97
60
24
35
1
-
213
273
49
6th, Coastal
Did not qualify
1997-98
60
31
24
5
-
188
209
67
3rd, Coastal
Lost in Quarterfinals, 3-4 (Chiefs)
1998-99
60
35
22
-
3
282
234
73
3rd, Coastal
Lost in Division Semifinals, 2-3 (Chiefs)
1999-00
60
36
20
-
4
282
223
76
4th, Coastal
Lost in Conference Quarterfinals, 2-4 (Clippers)
2000-01
60
29
23
-
8
225
205
66
2nd, Coastal
Fred Page Cup Champions, 4-3 (Centennials)
2001-02
60
33
26
-
1
231
220
67
3rd, Coastal
Lost in Preliminary, 1-4 (Capitals)
2002-03
60
23
29
1
5
234
281
52
5th, Coastal
Did not qualify
2003-04
60
25
29
3
3
217
235
56
2115
5th, Island
Lost in Preliminary, 1-4 (Eagles)
2004-05
60
16
39
0
5
176
255
37
818
5th, Island
Lost in Preliminary, 1-4 (Eagles)
2005-06
60
25
28
2
5
188
212
57
1166
4th, Island
Lost in Semifinals, 1-4 (Express)
2006-07
60
39
17
3
1
263
211
82
1235
2nd, Coastal
Lost in Quarterfinals, 2-4 (Capitals)
2007-08
60
30
22
3
5
204
189
68
1021
5th, Coastal
Lost in Quarterfinals, 2-4 (Chiefs)
2008-09
60
43
13
1
3
237
159
90
983
1st, Island
Lost in Division Finals, 3-4 (Kings)
2009-10
60
34
18
2
6
220
175
76
1016
3rd, Coastal
Lost in Division Quarterfinals, 2-4 (Clippers)
2010-11
60
33
24
0
3
218
197
69
4th, Coastal
Lost Division Semi-final
2011-12
60
21
38
1
0
192
305
43
14th BCHL
Did not qualify
2012-13
56
33
13
0
10
189
162
76
1st Island
lost Division Finals 2-3 (Bulldogs)
2013-14
58
37
15
3
3
212
163
80
1st Island
lost Division Semi-Finals 0-3 Round Robin Play
2014-15
58
29
18
1
10
219
219
69
2nd Island
lost division semi finals 2-4 (Kings)
2015-16
58
24
30
4
0
173
178
52
5th Island
Did not qualify
2016-17
58
37
12
4
5
218
143
83
1st Island
W, Div Semifinal 4-1 Nanaimo Clippers
W, Div Final 1-4 Wenatchee Wild
L, SF 4-2 Chilliwack Chiefs
2017-18
58
32
18
4
4
216
187
72
-
1st Island
W, Div Semifinal 4-3 Alberni Valley Bulldogs
L, Div Final 4-3 Powell River Kings
2018-19
58
36
18
0
4
231
188
76
-
1st Island
W, Div Semifinal 4-0 Alberni Valley Bulldogs
W, Div Final 4-3 Powell River Kings
L, SF 0-4 Prince George Spruce Kings
2019-20
58
24
33
0
1
163
219
49
-
5th Island
L, Int Div QF 0-4 (Salmon Arm Silverbacks)
2020-21
20
14
6
0
0
93
55
28
-
1st Port Alberni Pod
Playoffs cancelled
2021-22
54
29
25
0
0
202
174
69
-
4th Coastal
Lost Conference Quarterfinals
NHL alumni
Awards and trophies
Cliff McNabb Memorial Trophy

Chevrolet Cup

Top Goaltender Trophy

Brett Hull Trophy

Wally Forslund Memorial Trophy

Ed Forslund/Darryl Fedorak: 1971
Ron Grahame/Ed Forslund: 1969

Joe Tennant Memorial Trophy

Bob Fenton Trophy

Gary Nunn: 2007

Terry Wilson

: 1999
Pat Hodgins: 1991

Top Defenceman Trophy

Jordan Heywood: 2010
Rob Milliken: 1993

Vern Dye Trophy

Bruce Allison Memorial Trophy
See also
External links