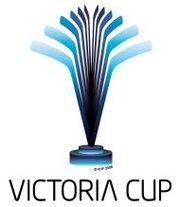 The Victoria Cup is an annual international ice hockey tournament organized by the International Ice Hockey Federation that opposes one or several European teams to one or several National Hockey League teams. In 2008, the inaugural edition of the Cup will be a single match held between the European Champions Cup winner and one NHL team; in the future, the Cup is hoped to be awarded to the winner of a match between the champion of the future Champions Hockey League and the Stanley Cup champion team.
The Victoria Cup was announced in 2007 as one of the major celebrations for the IIHF centennial in 2008. The Cup's name pays tribute to the Victoria Skating Rink in Montreal, home of the first certified ice hockey match in 1875.
On October 1st 2008, the first Victoria Cup was awarded to the New York Rangers, who defeated Metallurg Magnitogorsk 4-3.
On September 29th 2009, the ZSC Lions became the first European team to win the Victoria Cup by defeating the Chicago Blackhawks by the score of 2-1.
The 2010 version of the Cup was not held. The future of this competition is in doubt.