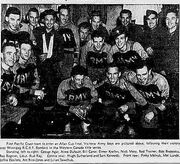 This team was set up by Canadian Army units in Victoria.
The team was set up late in the season in 1941-42 to challenge for the provincial senior title. It lost the 1941-42 British Columbia Senior Playoffs to the Kimberley Dynamiters.
Victoria Army played in the Vancouver Island Senior League in 1942-43. They won the league title and beat Vancouver RCAF for the provincial championship. Victoria then went on to win the 1942-43 Western Canada Allan Cup Playoffs but lost the 1942-43 Allan Cup Final to the Ottawa Commandos.
This was the last season that they played.