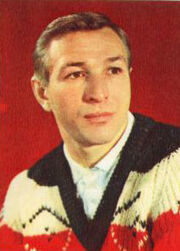 Viktor Aleksandrovich Zinger (born October 29, 1941 in Moscow, Soviet Union) is a retired ice hockey goaltender in the Soviet Hockey League. He played for HC Spartak Moscow.
Zinger played for the Soviet Union in the 1968 Olympics, winning the gold medal.
He was inducted into the Russian and Soviet Hockey Hall of Fame in 1967.
External links