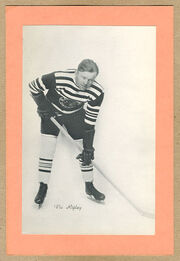 Vic Ripley (May 30, 1906 in Elgin, Ontario, Canada - 1963 in Las Vegas, NV) - was a professional hockey centre who played 7 seasons in the National Hockey League for the Chicago Black Hawks, Boston Bruins, New York Rangers and St. Louis Eagles.
He played junior hockey for the Calgary Canadians from 1922 to 1925. Ripley turned pro with the Minneapolis Millers in 1925-26.
In 1928-29 he made the Chicago Black Hawks and stayed with them for five seasons as a strong two-way forward. In 1932-33 he was traded to the Boston Bruins; in 1933-34 to the New York Rangers; in 1934-35 to the St. Louis Flyers.
He played in a total of 278 NHL games and scored 51 goals and 49 assists.
After 1935 he played in the minor pros until his retirement in 1944.
Highlights of the February 22, 1934 game between the New York Rangers and the Detroit Red Wings, won by the Rangers 3-1. Rangers second goal by #8 Cecil Dillon, assisted by #4 Vic Ripley on Detroit's Wilf Cude is shown. Rangers goalie Andy Aitkenhead plays with a hat.
Community content is available under
CC-BY-SA
unless otherwise noted.