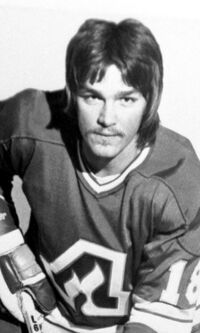 Vic Dennis Mercredi (born March 31, 1953) is a former National Hockey League player. He was born in Yellowknife, Northwest Territories. He played 2 games for the Atlanta Flames in the 1974–75 season.
Mercredi started out in junior hockey with the Tier II Penticton Broncos of the British Columbia Hockey League, winning the Most Valuable Player in that league in 1970-71. He went up to major junior with the New Westminster Bruins in 1971-72 and 1972-73.
The Atlanta Flames picked him 16th overall in the 1973 NHL Amateur Draft. He failed to make the team in 1973-74, playing in the minor pros. In 1974-75 he earned a two game callup.
He junped to the World Hockey Association's Calgary Cowboys in 1975-76, but with little success.
Mercredi spent one season in Sweden and the balance in the minor pros. He retired in 1980.
External links
[
]