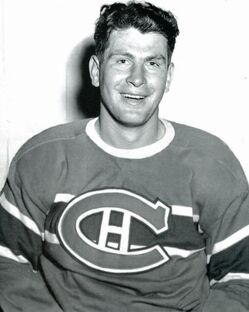 Victor Ivan "Vic" Lynn (born January 26 1925 in Saskatoon, Saskatchewan) is a retired professional ice hockey player in the NHL.
In 1943 Lynn played 1 game for the New York Rangers.
In 1944, he fell in with the Detroit Red Wings' organization but failed to impress the team's brass. As such, Lynn was sent to play for the Indianapolis Capitals of the AHL.
Several years later, as Lynn had been given the cold shoulder by not only the Wings, but the Montreal Canadiens as well, he landed in Buffalo of the AHL. It was at that time that Toronto Maple Leafs GM Conn Smythe was in search of some fresh talent to spark his sagging club. He got a tip to watch young Lynn as a possible solution to his roster woes. Smythe did just that and ended up bringing the speedster to Toronto.
In Toronto, Lynn joined Howie Meeker and Ted Kennedy to form "The K-L-M Line." The trio clicked for three seasons of successful hockey with Stanley Cup victories in 1947, 1948, and 1949.
On November 16, 1950, Lynn was traded to the Boston Bruins with Bill Ezinicki for Fernie Flaman, Leo Boivin, Kenny Smith and Phil Maloney where he played for a short time before heading to the minors with the Cleveland Barons of the AHL. Then, in 1953, he got one more kick at the top with the Chicago Black Hawks where he played his final NHL games near the end of the year.
Vic Lynn was the Head Coach of the Prince Albert Mintos of the SJHL in 1958–59 and of the Saskatoon Quakers of the SSHL in 1962–63.
Over 14 minutes of clips (in reverse image) from the December 27, 1947 Bruins-Leafs game won 2-1 by Toronto. The first 2 minutes are in colour. Goals by Sid Smith, Vic Lynn and Pete Babando are shown.
Community content is available under
CC-BY-SA
unless otherwise noted.