The Verdun Auditorium is the main arena in the Montreal borough of Verdun, Quebec, Canada. The building was constructed in 1938 and holds 4,114. The largest arena in the west end of Montreal, the complex also is home to Arena Denis Savard, a small minor-hockey rink, attached to its side. The Auditorium has hosted various Quebec Major Junior Hockey League teams, including the Verdun Juniors, Verdun Éperviers and Verdun Collège Français. It also hosted the Verdun Maple Leafs senior and junior teams.
The teams from the University of Montreal and Sir George Williams University have also played here.
On January 25th, 2008, the QMJHL approved the sale of the St. John's Fog Devils to Montreal businessman Farrel Miller. They play in the Auditorium.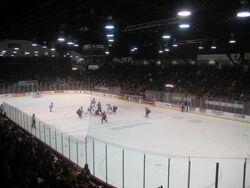 External links